Monday, November 13, 2023 - 10:17
Category: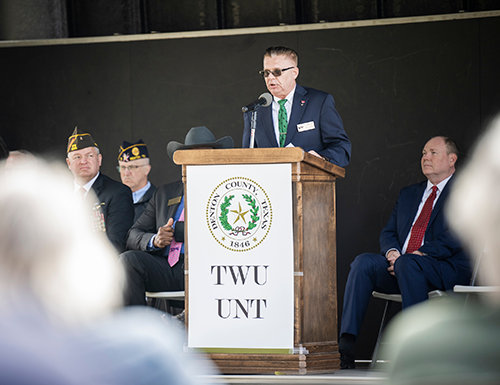 Student Veteran Services Director Jim Davenport
DENTON (UNT), Texas — The University of North Texas celebrated Veterans Day alongside the city of Denton and Texas Woman's University.
Staff of UNT Student Veteran Services, members of the UNT Student Veterans Association and students from UNT's Army ROTC and Air Force ROTC programs attended the city's Veterans Day on the Square event. They marked the annual U.S. holiday with a wreath-laying ceremony, a bagpipe presentation by the Denton Fire Department and a series of guest speakers including UNT Student Veteran Services Director James Davenport.
"Our vision is to be a leader in student veteran participation, success and excellence," Davenport said. "We strive to support veterans through their journey — from military to campus life, to graduation and success in their chosen careers."
UNT's Student Veteran Services offers programs to veterans such as mentorship opportunities, military-related service projects, academic advising and tutoring, social events for veterans and military families and more. The office assists the more than 3,000 UNT student veterans and veteran dependents with enrollment and finances and helps them understand their benefits. Staff members in the office, including student workers, are primarily veterans or their dependents.
The Career Center also offers services to UNT student veterans including resume building, career fairs for veterans and help with job interviewing skills. Mental health services are also provided for student veterans by Counseling and Testing Services such as counselors trained in military-related mental health issues, peer support-group meetings and opportunities to connect with therapy or service animals on campus.
"It is my hope that together, we continue to acknowledge their service and celebrate it," Davenport said. "We are committed to supporting our Mean Green veterans by offering resources, support and the best education they can receive."
UNT has long been veteran friendly, earning top recognitions such as being named a Purple Heart University and a Gold Military Friendly Tier One Research Institution. Additionally, for the past two years, UNT has received the State of Texas Veteran Education Excellence Recognition Award.
The university was acknowledged this year by Military Times for their annual Best for Vets college rankings. UNT made the list and was ranked 29th in the nation out of 325 universities. Military Times has included UNT in their top 28 on at least four other occasions.
UNT Junior Katherine Nelson Ortiz attended the city of Denton's event for the first time this year. Veterans Day is traditionally observed Nov. 11 to commemorate the World War I armistice on the 11th month, day and hour of 1918. Nelson serves as the cadet battalion executive officer for UNT's Army ROTC program.
"I like to give a lot of thanks to those who have fought the battles and are able to come back and tell their stories," Nelson said.
Her father served as an Airborne Ranger in the U.S. Army. Nelson is studying biology at UNT in hopes to become a medical officer and pursue a dentistry career.
"Veterans Day is a part of my family history," Nelson said. "Growing up, my dad was a bit of a drill sergeant in my house. He taught me a lot of lessons on how to think for myself and how to believe in myself for my future career. I get a lot of inspiration from my dad."