Friday, May 19, 2023 - 09:42
Category: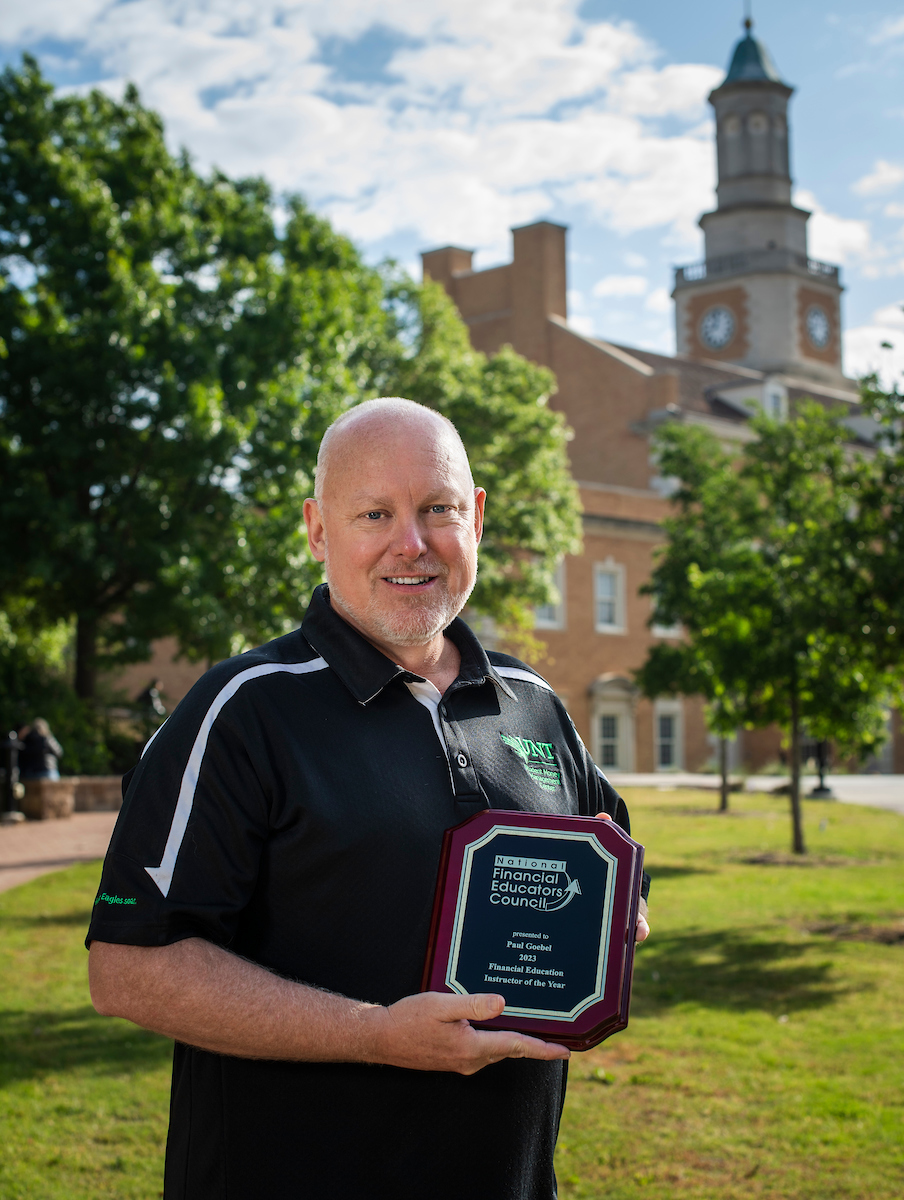 DENTON (UNT), Texas – The leader of UNT's Student Money Management Center earned national recognition for his contributions to the financial wellness movement.
Paul Goebel, the founder and director of UNT's Student Money Management Center, was honored with the 2023 Financial Education Instructor of the Year Award from the National Financial Educators Council. Since 2011, the award has acknowledged the commitment of financial educators and the positive impact they leave on the lives of the people they reach.
"An individual award often reflects the contributions of many," Goebel said. "I am grateful for the support of the entire campus and our community partners who believed in and advanced the idea of empowering students through financial literacy and education."
Goebel launched the center at UNT in 2005 as a non-academic financial education program dedicated to serving students. Since its creation, the center has grown to include three professional staff members, two graduate assistants and six undergraduate mentors. The team has served more than 165,000 students with education and special events; guided more than 11,000 students to resources through personalized coaching sessions; kept more than 15,000 students enrolled through emergency loan support; and welcomed more than 300,000 unique visitors to its website.
"The center's primary objective is to empower and educate students on making informed financial decisions that will positively impact their lives both during and after their time at UNT," Vice President of Enrollment Shannon Goodman said. "Paul Goebel's efforts to instill confidence in our students is a shining example of UNT's commitment to student success. The quality of the student experience matters, and it is up to us to ensure that our students have the best possible resources and support during their time with us.
"UNT takes pride in the center's continued efforts to assist students in achieving success throughout their academic journey and beyond."
Institutional research shows that since 2014, UNT has reduced the percentage of graduates with student loan debt by almost 10%, and today nearly 40% graduate with no debt.
Elandra Collins recently graduated during Spring 2023 commencements and worked at the center while earning her Bachelor of Business Administration degree. She said she saw "multiple students coming back" to thank Goebel for how much he helped them.
"Paul works diligently with every student to ensure they are able to utilize all the resources available and create a plan together for the situation at hand," Collins said.
"The advice I would give students who are overwhelmed and don't know what to do about their finances is to be gracious with yourself and find out all of your options. Then, be intentional while moving forward."
In addition to leading the center, Goebel has been much sought-after for his collaboration and advocacy on the national stage, helping establish financial education programming at more than 200 universities and community colleges across the country. He co-founded the Texas Association of Collegiate Financial Education Professionals and has shared his expertise at more than 100 seminars and conferences as a keynote speaker and presenter.
"New financial responsibilities and expectations of college can create challenges for many students that, oftentimes, turn into crises," Goebel said. "Financial education is defining student success beyond the classroom. We don't want students' dreams of college attainment to stay only dreams. At the center, our purpose is simple in that we help Eagles soar."