Thursday, September 15, 2022 - 15:39
Category: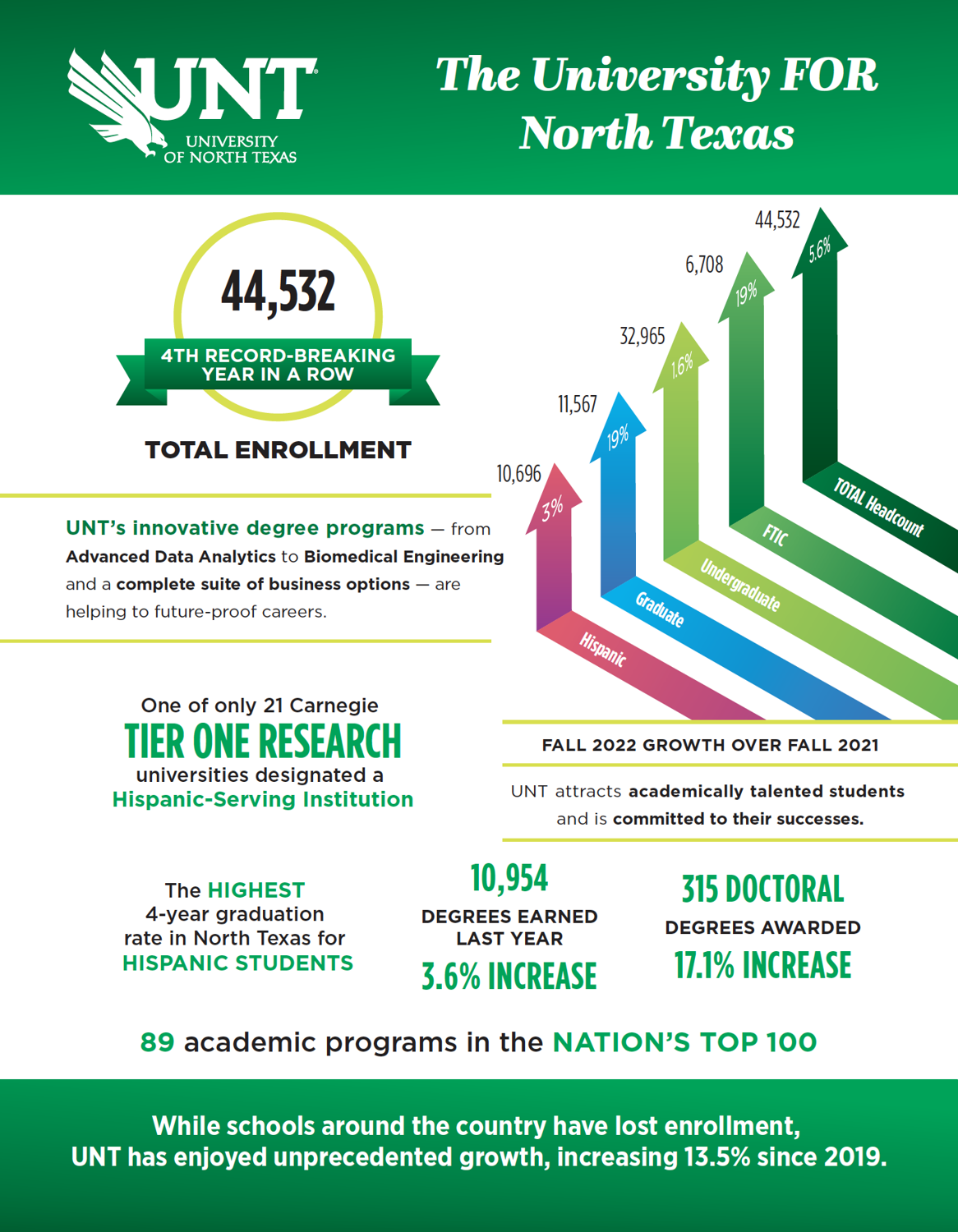 DENTON (UNT), Texas - The University of North Texas is celebrating the fourth consecutive record-breaking fall census day with 19% growth in new freshmen, 19% growth in graduate students, and nearly 4% growth in newly minted degree holders that will change the lives of students, families, and communities throughout the North Texas region and Texas.
While schools around the country have lost enrollment, UNT has seen unprecedented growth, increasing 13.5% since 2019. UNT's growth through and after the pandemic means 44,532 students — an increase of 5.6% or 2,364 new students — enrolled at Texas' most comprehensive Tier One research university serving the North Texas region, according to UNT's latest 12th class day enrollment report.
This makes UNT one of the fastest growing universities in Texas and the nation, UNT President Neal Smatresk said.
"We are committed to helping our students succeed and to thrive beyond graduation in our complex and ever-changing world," Smatresk said. "UNT continues to be the university of choice for more students than ever before, and UNT remains one of the top producers in awarding degrees in the North Texas region, which speaks to our desire to help our students be successful and to help Texas meet the workforce demands of the future. No other university system in the region does more than UNT to drive Texas' progress."
This year's record-breaking class of new freshmen includes 6,708 students (up 19% from 2021) who come from all over Texas, the nation and the globe. This freshmen class is far bigger than any other group of new freshmen in the region. In addition, UNT has record growth (19%) in graduate students, with 11,567 students seeking advanced degrees to improve their futures.
"UNT is the preferred destination in North Texas for high school seniors," Smatresk said. "It's incredible to have 19% — or 1,064 — more new freshmen on campus this year. To also have 19% growth in graduate students, after several years of fast-paced growth at that level, is incredible, and I am proud that UNT can serve students, families and Texas."
UNT students benefit from a challenging education as well as a diverse and supportive community committed to their success. UNT is proud to be designated a Minority-Serving Institution and one of only 21 Carnegie Tier One research universities designated a Hispanic-Serving Institution, joining in with the others to form the Alliance of Hispanic Serving Research Universities. More importantly, UNT is proud to have the highest four-year graduation rate in the North Texas region for Hispanic students.
UNT continues to offer and grow in much needed degree programs such as data analytics, biomedical engineering, and a complete suite of business options at the bachelor's, master's and doctoral level.
UNT also is teaching 2,579 students at its locations in Frisco. In January 2023, the new branch campus will open its first building on the 100-acres donated by the City of Frisco to establish convenient access to the opportunities that a UNT education provides for those in Collin County and beyond.
There are more than 10,000 UNT alumni leading businesses as executives in North Texas, and more than 324,000 alumni work in the region, which is home to 24 of the state's 53 Fortune 500 companies. State demographers predict that the Dallas-Fort Worth area will surpass Chicago as the United States' third-largest metropolitan area in the next 10 years. UNT is committed to continue meeting the unprecedented workforce demands of this growth to ensure Texas meets its higher education graduation goals and remains attractive to business.
Note: Until the Texas Higher Education Coordinating Board verifies enrollment numbers and makes them official later in the fall, all enrollment statistics are unofficial, 12th class day numbers.