Thursday, May 5, 2022 - 12:03
Category: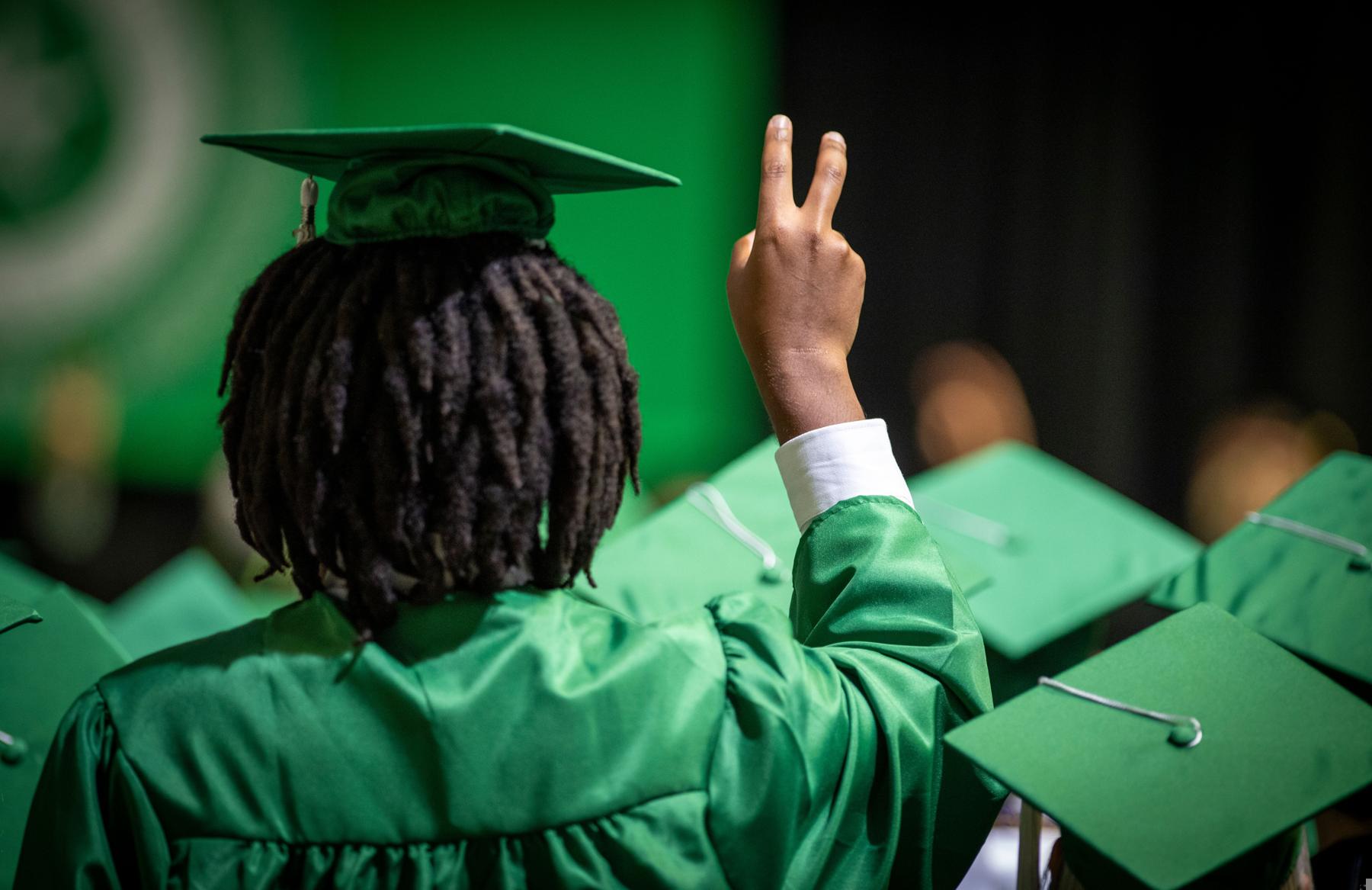 DENTON (UNT), Texas — The University of North Texas will celebrate graduates in 12 ceremonies next week.
During Spring 2022 commencement ceremonies May 13-15 (Friday-Sunday), more than 5,600 students are expected to receive bachelor's, master's or doctoral degrees from UNT.
Among those receiving degrees will be the first graduates in UNT at Frisco's Bachelor of Science in Project Design and Analysis, which debuted in Fall 2020. The immersive program gives students the opportunity to put their skills into practice on real-world projects with industry partners. It's one of many new innovative degree options UNT has added in the last few years to keep students competitive across various industries.
The ceremonies will be held on the UNT campus in the Coliseum, 600 Avenue D, and in the Murchison Performing Arts Center, 2100 N. I-35 East, Denton.
See the schedule of individual college ceremonies and live stream links online.
Media planning to attend a commencement ceremony should contact Heather Noel at Heather.Noel@unt.edu or 940-369-8218.
For UNT commencement coverage, stories of interest include:
Tetyana Kucher – Tetyana Kucher was preparing to finish her final paper and present and defend her dissertation — the culmination of years of work — when Russia invaded her home country of Ukraine and her world was suddenly thrown into an endless cycle of watching the news and hoping to hear from her family that they were okay. After two weeks, with her mother safe in Poland thanks to some help from one of her professors, she scrambled to finish her work in time. With hard work and the support of her professors, Tetyana was successful in presenting her work on virtual reality as a learning tool. Tetyana's ceremony is at noon on May 15 (Sunday) in the UNT Coliseum.
Charity Morrison – Charity's first day at UNT was her first day of school — ever. Growing up in a restrictive religious community, she never received a formal education as a kid. Eighth months before applying to UNT, she started her first formal lessons on horn. Now, she's playing in the College of Music's top ensembles — Wind Symphony and Symphony Orchestra — and teaching private lessons to middle and high school students in Denton ISD. Charity's ceremony is at 4 p.m. on May 13 (Friday) in the Murchison Performing Arts Center.
Madison "Sonny" Card – Sonny combined her passion for dance and love of neuroscience by researching the mind-body relationship in formally trained dancers. With support from numerous professors — including her mentor in the McNair Scholars Program, Anthony Ryals, assistant professor of psychology and principal investigator in UNT's Neurocognitive Laboratory — Sonny won a prestigious National Science Foundation Graduate Research Fellowship, which recognizes outstanding graduate students in STEM disciplines. Sonny's ceremony is at noon on May 14 (Saturday) in the UNT Coliseum.
Javier Santillan – Javier is a first-generation student and will be among the first graduates in UNT at Frisco's Bachelor of Science in Project Design and Analysis program. Javier also worked with G-Force, UNT's student outreach initiative sponsored through the Texas Work-Study Mentorship Program, and the Consulate-General of Mexico, leading a team in connecting the Hispanic and Mexican communities with information about educational resources. Javier's ceremony is at 8 a.m. on May 14 (Saturday) in the UNT Coliseum.
Elisa Valentine – Elisa faced adult-sized traumas at a young age, including the incarceration and death of her father, crippling anxiety and depression and a heart condition requiring constant monitoring by her medical mobility and psychiatric alert support dog, Crush. At 19, she's graduating magna cum laude with a bachelor's degree in psychology and plans to advocate for a cause close to her heart — destigmatizing mental health issues. Elisa's ceremony is at noon on May 14 (Saturday) in the UNT Coliseum.