Tuesday, April 12, 2022 - 10:02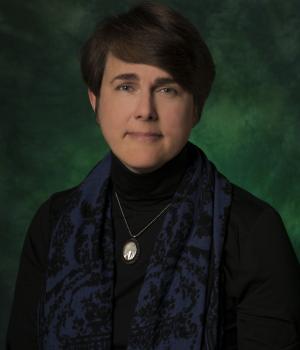 DENTON (UNT), Texas — A group of University of North Texas researchers is working to expand support for North Texas residents living with aphasia and their families, friends and care partners.
Aphasia — a debilitating communication disorder that impairs language abilities needed for talking, understanding speech, writing and reading — is estimated to affect as many as 27,000 people in the North Texas region and at least 2 million people in the U.S. Celebrities affected include singer Randy Travis, who was diagnosed after a 2013 stroke; former U.S. Rep. Gabby Giffords, who developed aphasia after being shot in the head during a 2011 assassination attempt; and actor Bruce Willis, whose family recently shared his aphasia diagnosis.
The North Texas region sees an estimated 6,000-7,000 hospital discharges of aphasia per year caused by a variety of factors, including stroke — the most common cause — trauma and other brain injuries, and in rare cases, degenerative neurocognitive disorders or a tumor in the brain.
"Of the estimated thousands of people currently living with aphasia in North Texas, fewer than 200 are currently accessing the post-discharge supports and services that may be available to them," said Gloria Olness, an associate professor in the College of Health and Public Service. "Where do they go? We are laying the foundation for establishing The Aphasia Collaborative (TAC), a multi-institutional, multi-disciplinary and interpersonal network to provide help."
TAC (pronounced t-AH-k) will support and connect people living with aphasia, their family members and friends, their communities, community leaders, health care leaders, and transdisciplinary health care service providers and hospitals, as well as medical and university clinics that may be involved in treatment and research.
She said the most important thing for everyone to remember is that there is help available not only in the form of rehabilitation, but also support for family members and friends.
"The true experts about aphasia are the people living with aphasia, and we do not yet hear their voice," Olness said. "Friends just stop coming. Family members don't know how to communicate with this person that they love. It's really this connection with family and friends that is the most important thing that is lost, but it doesn't have to be this way."
Because aphasia is often both sudden and unseen, many people may not realize that they know someone with aphasia.
"Imagine suddenly waking up in the hospital after a stroke, desperate to know what happened to you, and not being able to use your native language to talk, understand what other people say, write or read written language," Olness said. "Aphasia is not an impairment of intellect. It is an impairment of language. The person is still fully able to make decisions and run their life — but they have problems communicating, which is the basis for our very social connection with the world."
Olness is working on the project with a group of research speech-language pathologists and with Associate Professor Liam O'Neill, who is analyzing insurance and discharge data.
The research is funded by the Josephine Simonson Aphasia Trust Fund at the Southwestern Medical Foundation.