Tuesday, June 7, 2022 - 15:30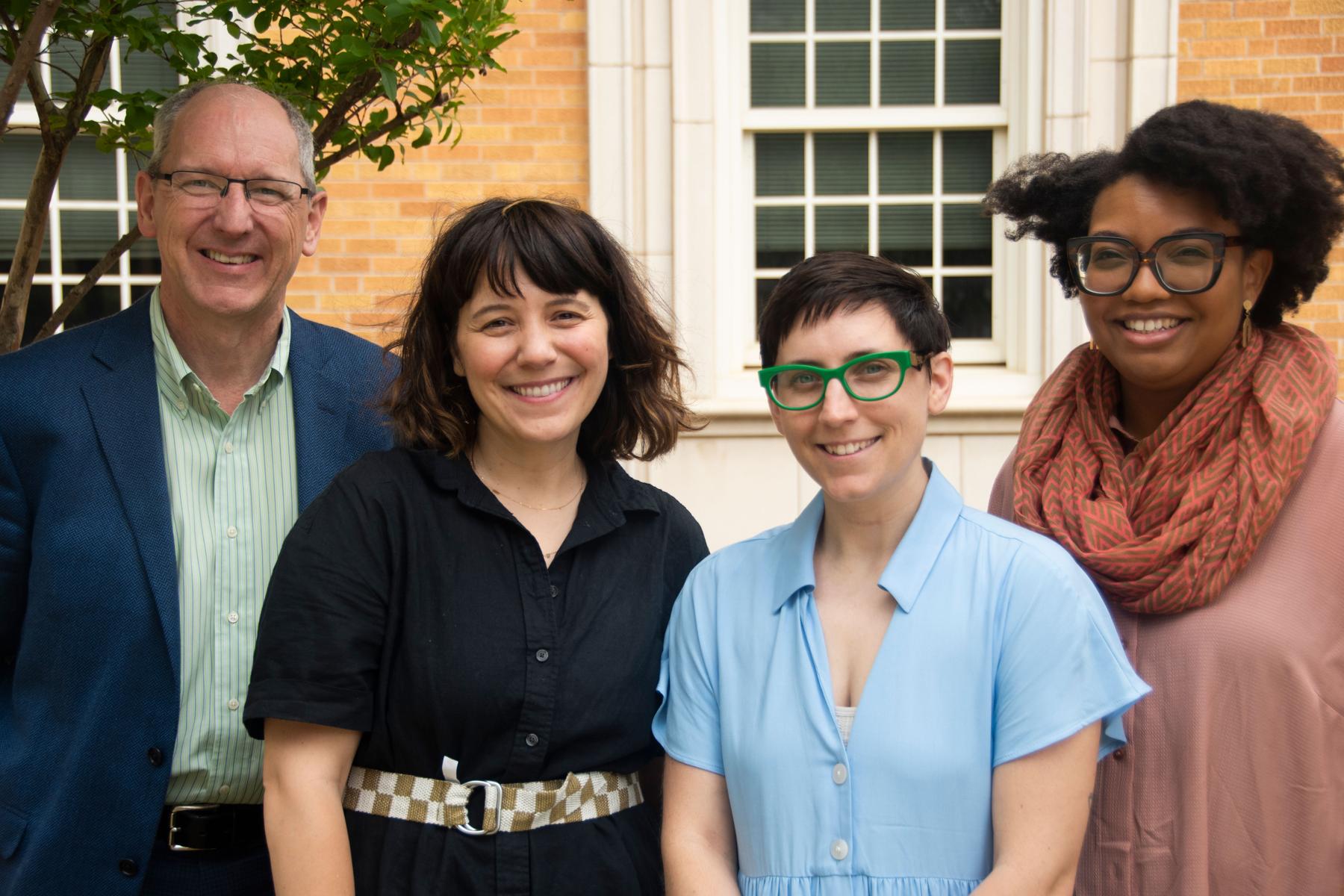 The 2022-23 IAA Faculty Fellows are Jon Nelson, Katherine Sobering, Liss LaFleur and Lauren Cross.
DENTON (UNT), Texas — From a new media music composition inspired by time and sound and an exhibition on African American fiber art traditions to original research on the childbirth experiences of queer people in America, four University of North Texas professors will be pursuing creative projects in the next year as the 2022-23 Institute for the Advancement of the Arts Faculty Fellows.
UNT is committed to fostering creativity and launched the IAA in 2009 to support and advance excellence in the visual, performing, creative and literary arts. Each year, the university selects professors to be part of the Faculty Fellows program, which enables UNT faculty to focus on creative endeavors for a semester and then bring their enhanced perspectives to teaching.
The 2022-23 IAA Faculty Fellows are Lauren Cross, Jon Nelson, Liss LaFleur and Katherine Sobering.
Jon Nelson, professor in the College of Music Division of Composition Studies
Nelson is working on developing custom computer music software he'll use in composing a 15- to 20-minute eight-channel fixed-media computer music work titled "Toward the Event Horizon." As part of this composition work, Nelson will be a composer in residence at the Visby International Center for Composers in Gotland, Sweden next spring.
The musical work will be inspired by notions of time and sound as they might be experienced near the event horizon of a black hole. The extreme gravitational pull of a black hole slows time and stretches, or "spaghettifies," matter. "Toward the Event Horizon" will create new sound worlds by dramatically granulating and stretching sound recordings of both musical instruments and environmental sounds.
For this work, Nelson plans to explore the sounds of string physical models, metallic sounds and extremely stretched environmental sounds within an immersive soundscape. "Toward the Event Horizon" will juxtapose different time domains and temporal experiences to create a surreal environment that encourages listeners to experience time in novel ways, imagining sounds as they approach a black hole.
Nelson's electroacoustic music has been performed widely throughout the U.S., Europe and Latin America, and has been honored with numerous awards, including fellowships from the Guggenheim Foundation, National Endowment for the Arts and Fulbright Commission. He also is the recipient of a Bourges Prize, Luigi Russolo Prize and numerous electroacoustic commissions.
Lauren Cross, assistant professor in the College of Visual Arts and Design Interdisciplinary Art and Design Studies Program
Cross will curate an exhibition to build upon her ongoing research exploring the history and impact of African American women artists and their fiber traditions.
The exhibition will feature the works of male and female artists of African descent who create artworks that either engage with fiber art traditions or reference them. During the fall, Cross will work to identify artists for the exhibition, create content for the exhibition catalog and organize public programming. The exhibition will be shown in the CVAD Galleries at a future date and possibly travel to other venues across the U.S. Additionally, she will connect its relevancy to the field of contemporary art through the works of contemporary African American artists in the U.S. Her writing will be published in the upcoming manuscript, African American Women Artists & the Fiber Tradition: History & Impact.
Her research looks at multicultural approaches in arts practice, entrepreneurship, curatorial studies, museum studies and art history. She is the director of the award-winning documentary The Skin Quilt Project and has been recognized nationally and internationally for her art practice and community work. Previously, Cross was selected as a Visiting Artist for the Center for Creative Connections at the Dallas Museum of Art and served as an inaugural Carter Community Artist for the Amon Carter Museum of American Art.
Liss LaFleur, associate professor in the College of Visual Arts and Design Department of Studio Art and Katherine Sobering, assistant professor in the College of Liberal Arts and Social Sciences Department of Sociology
For The Queer Birth Project, LaFleur and Sobering will work collaboratively on original scholarly research, a series of visual artworks for exhibition and a publication to explore the childbirth experiences of LGBTQ+ people in America. Their work will contribute to a national conversation relating to birth, family-building and feminism in America.
The structure of this project is based on a re-envisioning of feminist artist Judy Chicago's Birth Project (1980-85). In 1981, Chicago posed the question: how do women feel about all aspects of birth? To answer this question, she conducted an original survey and then collaborated with needleworkers in the U.S.to create a series of visual artworks. Representations of childbirth in western art and culture have long excluded the lives of lesbian women and non-conforming bodies. Forty years later, using Chicago's archival materials as a model, LaFleur and Sobering's project asks: how do queer people feel about all aspects of birth? The first installation of this work is currently on view at the Nasher Sculpture Center in Dallas through July 17.
LaFleur is an interdisciplinary artist whose practice spans moving image, performance, queer and feminist politics and installation art. Her work broadly explores the relationships between gender, technology and identity. She was named a 2020-22 Citizen Artist Fellow by the John F. Kennedy Center for the Performing Arts in Washington, D.C. and a 2018 Immersive Scholar by the Andrew W. Mellon Foundation. LaFleur has exhibited, screened and lectured internationally including at the TATE (London), the Czong Institute for Contemporary Art (South Korea), the Reykjavik Art Museum (Iceland), SXSW (Austin), Contemporary Art Museum (Houston) and Telematic Media Arts (San Francisco).
Sobering's research as a sociologist examines how inequality is produced and disrupted in everyday life. She primarily uses ethnographic methods to understand contemporary work and politics in the U.S. and Latin America. She is a past Fulbright Scholar and author of the forthcoming book, The People's Hotel: Working for Justice in Argentina. Her work also has been supported by the National Science Foundation.