Thursday, October 5, 2023 - 11:11
Category: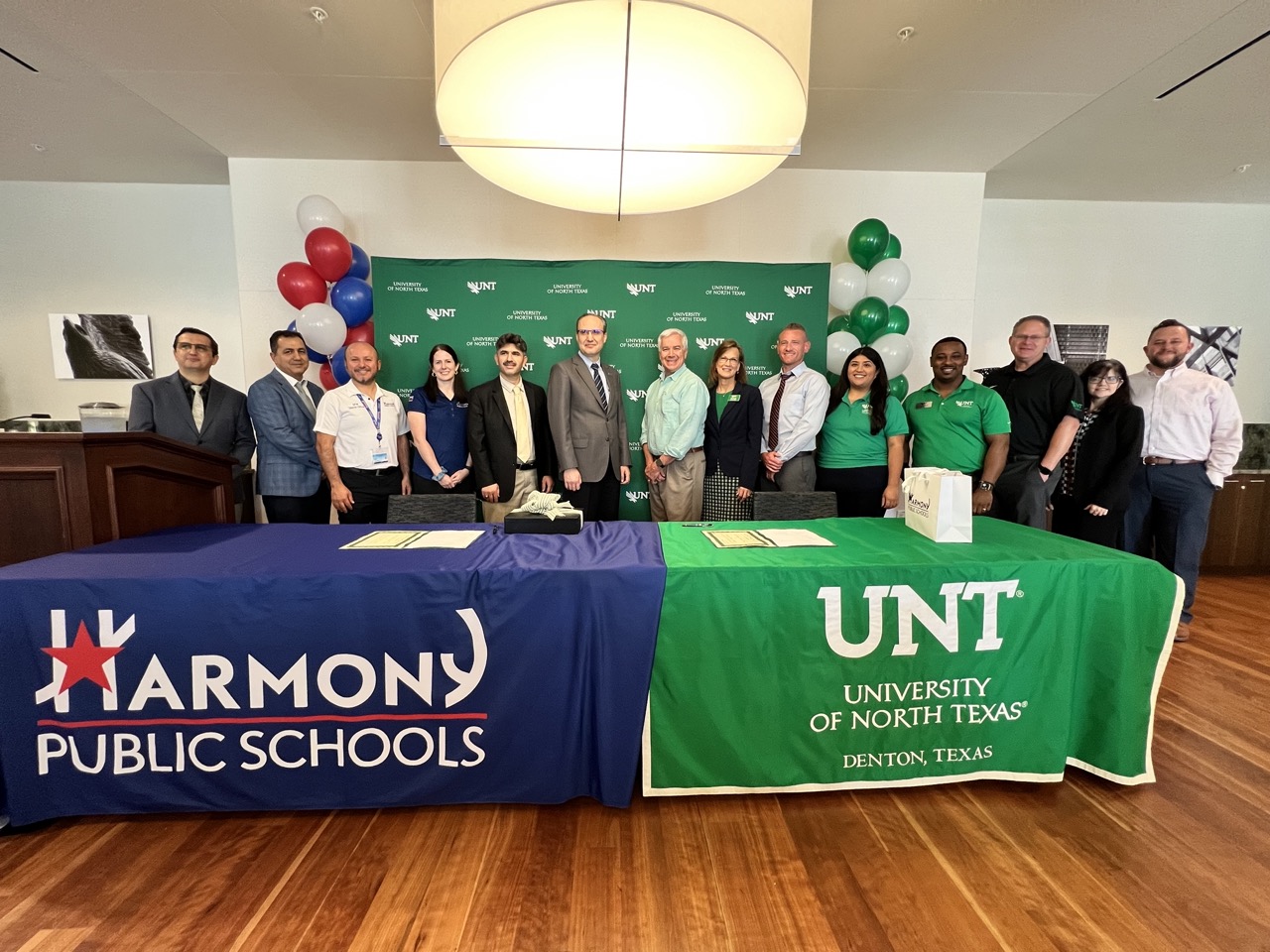 Image courtesy of Harmony Public Schools North Texas District
DENTON (UNT), Texas — The University of North Texas and Harmony Public Schools (HPS) established a new partnership that will help more students pursue their higher education goals.
Community members from UNT and HPS celebrated the signing of a Memorandum of Understanding that outlines how the institutions will work together for better pathways for the charter schools' high school students to pursue their college degrees at UNT.
"We look forward to many years of successful collaboration as we work together to open doors to students throughout the North Texas region and the state," UNT Provost and Vice President for Academic Affairs Michael McPherson said.
The partnership aims to improve and enhance college preparation, readiness, access, and success initiatives for high school students within the HPS system. The goal is for HPS students to experience a seamless transition and continued success as they progress through their academic journey at UNT.
UNT plans to provide college outreach activities and workshops at HPS schools, train HPS teachers and counselors so they can more readily guide their students and parents through the college admission process, offer peer coach training to HPS alumni, and host HPS students on campus to explore college life.
HPS, which serves many low-income students who enroll in college as first-generation students, intends to continue supporting its graduates while in college. HPS alumni attending UNT will be recruited to serve as paid peer mentors to incoming HPS graduates during their first two years at UNT.
Khalid Alazawi, a recent graduate of the Harmony School of Innovation-Fort Worth, is among those mentors. The UNT freshman biology major said the leadership qualities he garnered while attending Harmony prompted him to take on the role.
"I want to be a leader so that I can help those that come to UNT in the future get the head start that I also got," he said. "Also, I know that in the future I'm going to have to rely on leadership skills as well when I'm tasked with a project. This is a good experience that will help me grow."
The agreement also calls for HPS to offer classroom observation opportunities to UNT education majors and to train its alumni to guide HPS mentees throughout their careers.
"The impact of this collaboration will be far-reaching," said Harun Karan, the North Texas District Superintendent for HPS. "It will empower our students to reach for the stars, providing them with the tools and guidance needed to achieve their academic and career goals. It will also strengthen our communities, fostering a culture of lifelong learning and collaboration."
***
About Harmony Public Schools
Harmony Public Schools is a K12 system of 62 Texas public charter college prep schools that provides rigorous, high-quality education focused on Science, Technology, Engineering, and Math to more than 41,000 Texas children. Through a caring and collaborative environment, Harmony provides students from traditionally underserved communities the opportunity to excel through project-based learning where they learn the skills necessary to become contributing global citizens. In the year 2000, Harmony Public Schools opened its first school in Houston, Texas, and still houses central administration in the Houston area. Since expanding, Harmony has grown into all major areas of Texas, forming seven distinct regions (or districts).