Wednesday, November 8, 2023 - 11:56
Category: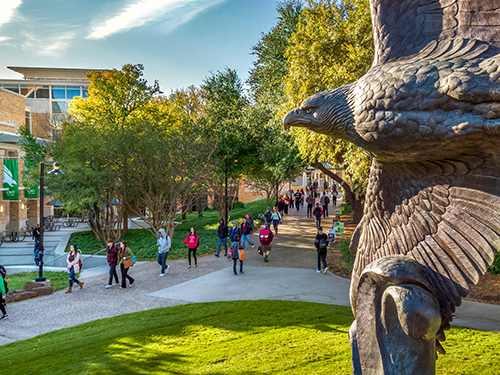 DENTON (UNT), Texas — The University of North Texas was named as a Fulbright HSI (Hispanic-Serving Institution) Leader for 2023. Each year, the U.S. Department of State's Bureau of Educational and Cultural Affairs recognizes the strong engagement of select HSIs with the Fulbright Program, the U.S. government's flagship international academic exchange program.
Assistant Secretary of State for Educational and Cultural Affairs Lee Satterfield commended the institutions receiving the Fulbright HSI Leader designation this year. UNT was one of only 48 institutions named across the country.
"Representation matters and pairing the world-class educational opportunities that Hispanic-Serving Institutions provide with the power of Fulbright further enriches the experience and educational opportunities for students and scholars both at home and abroad," Satterfield said.
Over the next year, faculty, staff, students and alumna from UNT are traveling internationally to teach and conduct research as part of the prestigious Fulbright Program. Their expertise and studies will take them to Israel, South Korea, India, Ghana, Iceland, Germany and Taiwan.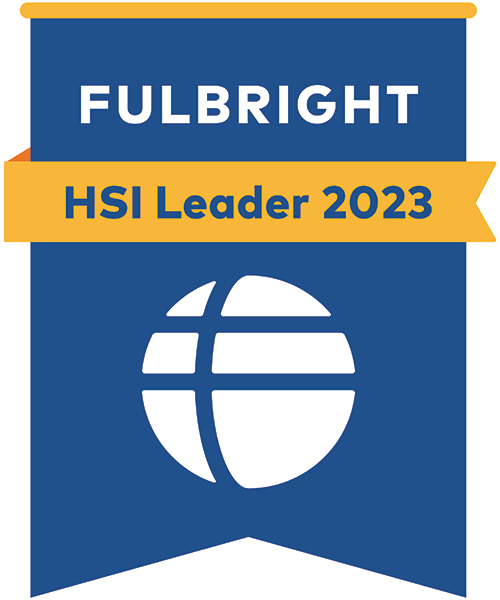 Established by the U.S. Congress in 1946, the Fulbright Program aims to increase the mutual understanding between the people of the United States and the people of other countries through research, study, teaching and other collaborative opportunities.
UNT has maintained a strong history with the Fulbright Program by receiving Fulbright Visiting Scholars and Fulbright Foreign Students as well as having faculty and students participate in the Fulbright Scholar, Specialist and U.S. Student programs.
Since 1960, there have been more than 95 faculty and staff across multiple discplines named as UNT Fulbright Scholars and Specialists. Since 1949, there have been more than 52 UNT Fulbright Student award winners.
The award winners for the 2023-2024 academic year include:
Fulbright Scholar Program
Diana Berman, associate professor in the Department of Materials Science and Engineering, will collaborate with professors internationally on the challenges facing tribology. Berman hopes to create a starting point for future researchers of tribology, which is the study of wear, friction and adhesion.
Associate Dean of the Toulouse Graduate School Joseph Oppong traveled to Ghana to lead university workshops on mentoring graduate faculty and creating graduate programs focused on student support and establish a national association of graduate deans. A secondary goal is to share best practices of graduate student support when he returns to UNT.
Fulbright International Education Administrators Seminar to South Korea
Lauren Jacobsen-Bridges, senior director of international student and scholar services, traveled to South Korea over the summer with other international education administrators. There, they visited 15 institutions across South Korea to learn more about the country's higher education system, society and culture.
Fulbright Specialist Program
Saraju Mohanty, professor in the Department of Computer Science and Engineering, traveled to India to lecture university faculty on fundamental topics in computer science, computer engineering and electrical engineering. Mohanty also presented on how to create their own lessons in these subjects.
Fulbright U.S. Student Awards
Garrison Gerard, who completed his doctorate in music composition in May 2023, received a Fulbright-National Science Foundation Arctic Research Award. He will travel to Iceland to study the effect of human-generated sound on wildlife in the country's national parks. Gerard also will provide recommendations on how to reduce noise from humans in order to help plants and animals. Gerard plans to use the recordings from his research in future musical works.
Lorelei Nichols, who graduated with a Bachelor of Arts in English this past spring, received an English Teaching Assistant Award. Nichols will be assisting English classes for middle school-aged students outside in the Alps in Germany. She also plans to create hiking clubs at the schools if the clubs don't exist yet. Through the clubs, she'll share facts about Texas wildlife with students and common American camp songs.
Odalis Alvarado, who earned a master's in public administration in 2022, received an English Teaching Assistant Award. Alvarado will go to Taiwan where she has taught before. She is currently working on her second master's degree at Queen's University in Belfast thanks to a Rotary Global Grant. Alvarado aims to one day create a global organization that promotes equality in education.
UNT's Global Engagement Office hosts Fulbright Faculty Workshops while UNT students can learn more during virtual sessions on Fulbright Fridays.
UNT faculty and students who are interested in applying for any Fulbright awards should email Fulbright@unt.edu.