Monday, May 1, 2023 - 09:30
Category: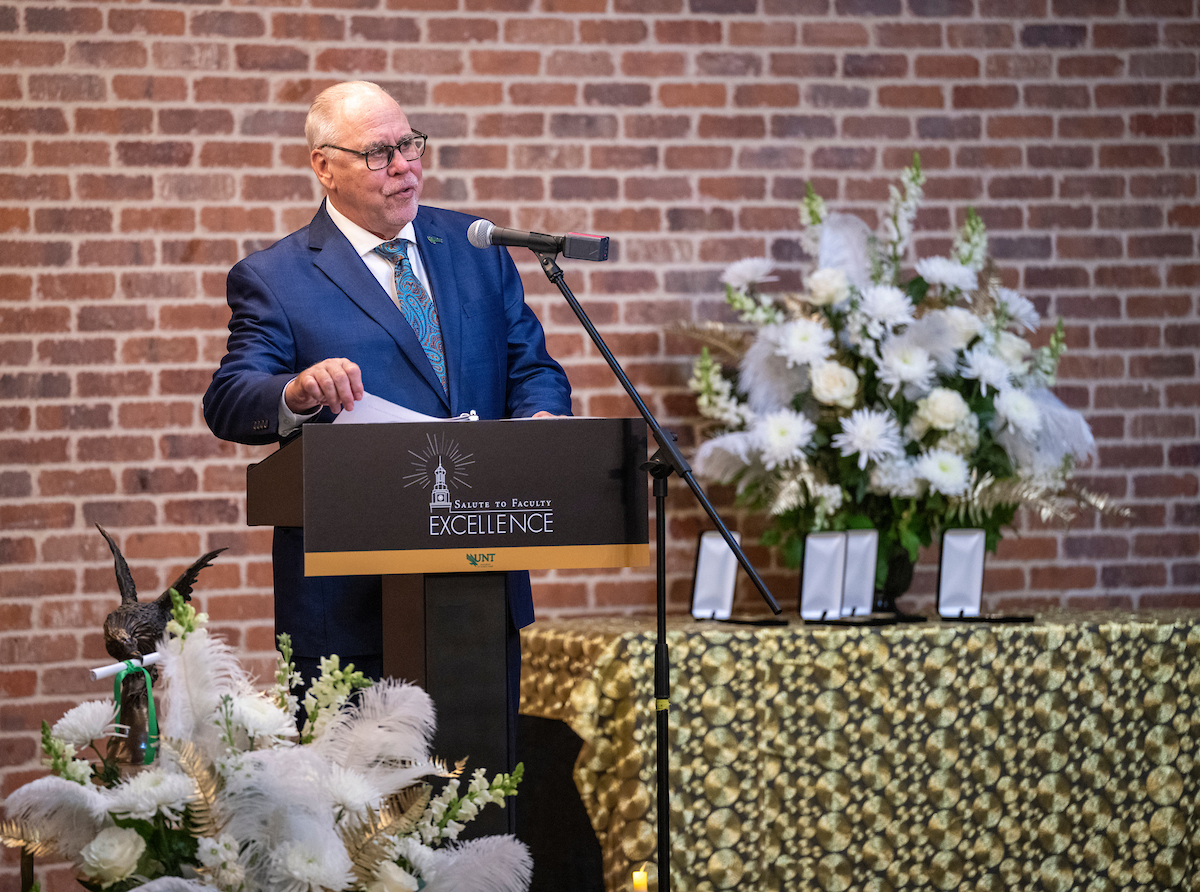 DENTON (UNT), Texas – The University of North Texas celebrated 31 faculty members for their remarkable impact on student success and outstanding scholarly and creative achievements during the annual Salute to Faculty Excellence awards ceremony April 28.
Faculty received awards from across the university, including the Office of the Provost, the Division of Research and Innovation, the Center for Learning Experimentation, Application and Research, International Affairs and more. See a full list of 2023 faculty award winners.
The Salute to Faculty Excellence awards ceremony is supported by the UNT Foundation, which accepts, invests and manages private gifts, endowed funds and other assets for the benefit of the university, including the top four faculty awards.
This year's UNT Foundation Award winners have made considerable contributions not only to their disciplines — which range from business and public service to the arts — but also to the success of their students, colleagues and community partners.
Learn more about Bland in a video about his nearly 40-year career at UNT and the impact his servant leadership has had on his students.
Bob Bland received the UNT Foundation Eminent Faculty Award, UNT's highest faculty honor. Bland is the Endowed Professor of Local Government and director of UNT's Center for Public Management in the College of Health and Public Service.
Bland joined UNT in 1982 and served as the founding chair of the public administration department for 22 years, leading efforts to grow the fledgling enterprise into a nationally ranked program with a Ph.D. and an M.P.A. degree that was recently ranked No. 8 in the nation and No. 1 in Texas by U.S. News and World Report.
Bland is the author of several books that are foundational to the field, all published by the International City/County Management Association, the leading organization of local government professionals. He received the ICMA's Stephen B. Sweeney Academic Award and was the first recipient of the Texas City Management Association's Terrell Blodgett Academician Award. Bland has been an elected fellow in the congressionally chartered National Academy of Public Administration since 2012, and he was elected as an honorary lifetime member of ICMA in 2017 in recognition of his outstanding professional service.
Despite his many professional accomplishments, Bland sees his students as his greatest career successes. Of the 15 doctoral students he has advised, all hold professional positions — seven as tenure-track faculty. For his dedication to mentorship and student success, he has been named Professor of the Year by UNT's M.P.A. Student Association four times and has earned numerous external awards for teaching and public service.
The UNT Foundation Faculty Leadership Award went to professor of political science Kimi King, who has been an agent of change since she joined UNT in 1995.
King laid the foundation for the Department of Political Science's internship program and also led the crusade to build its pre-law program, serving as UNT's first full-time pre-law faculty advisor.
She started UNT Moot Court, which has been nationally ranked for more than 20 years and earned more than 250 individual and team awards. When the political science department needed an interim chair in 2021, colleagues put her name forward and she accepted, becoming the second female chair in the department's history and leading faculty and staff through a challenging post-pandemic year.
Some of her most impactful leadership has been with the Women and Gender Equity Network, formerly known as the Women's Faculty Network, which she founded in partnership with Tracy Everbach and the late Sheri Broyles. For years, the network has provided support, coaching and advocacy to help faculty of all ranks, ages, ethnicities and nationalities successfully navigate careers in academia.
April Prince, principal lecturer in the Division of Music History, Theory and Ethnomusicology, is the recipient of the 2023 UNT Foundation Outstanding Lecturer Award.
Since joining the College of Music in 2016, Prince has transformed its curriculum for non-music majors through her creative approach to music history, technical expertise and commitment to student success.
Prince designs engaging classes on relevant topics ranging from gender and sexuality to film music, politics and music outside the traditional canon. Her commitment to student success extends well beyond the classroom. She works closely with the Graduate Association of Musicologists und Theorists, one of the division's graduate student organizations, and has served as a faculty reviewer for its in-house journal, Harmonia, presented on professional development panels for the group, regularly attended its annual graduate student conference and served as faculty advisor for the 2021-22 academic year.
She supervises up to 10 teaching assistants and fellows each semester, providing individual mentorship and organizing workshops in collaboration with UNT's Center for Learning Experimentation, Application and Research to make them stronger teachers and prepare them for career success.
University Distinguished Research Professor Gopala Ganesh, known by many as "GG," received the UNT Foundation Community Engagement Award.
Ganesh joined UNT in 1983. An expert in survey research, he has dedicated his career to preparing future business leaders in the G. Brint Ryan College of Business and building strong relationships with community partners across the globe.
In 2006, Ganesh was one of the first professors in the nation to teach a notoriously difficult graduate-level marketing research and analytics class in a fully online format. The class centers on a semester-long project in which students work with clients to develop online surveys and analyze the data to help them improve their organizations. A servant leader at heart, Ganesh chooses to work with public organizations that typically don't have the budget for a consulting firm, including recent clients like the Carrollton and Plano Parks and Recreation departments, the Frisco Public Library and numerous divisions and departments at UNT.
In 2015, Ganesh took faculty development leave to visit his alma mater, the prestigious Indian Institute of Technology Madras. He volunteered his time and expertise to conduct a first-of-its-kind alumni feedback survey, then analyzed and interpreted the data so IIT Madras could include the results in a report to the Government of India.