Thursday, November 2, 2023 - 10:29
Category:
From left: Jose Marines, Lauren Fischer, UNT professor Simon Andrew, UNT alumnus Nick Collins and Lu Liang
DENTON (UNT), Texas — As an undergraduate at the University of North Texas, Jose Marines ('22) worked as a research assistant for the Advanced Environmental Research Institute (AERI). The work, which included walkability studies and environmental monitoring, soon became his passion.
"I was excited by the opportunity to provide baseline data on environmental conditions and look at how it progressed," Marines said. "Looking at real change and tracking environmental health was interesting to me."
AERI is a UNT interdisciplinary research center of excellence uniting faculty, staff and students from across the university to work together on large research projects aimed to mitigate environmental problems in areas ranging from air and water quality to urban planning, public health and conservation biology. Marines, who worked under AERI associate director Lauren Ames Fischer, also belonged to a team that held community engagement events in the city of Lewisville to gather direct input from residents. The team collected feedback and suggestions for improvements to city parks and trails.
"It's impressive to see how strong community relationships can snowball into collaborations," said Fischer, who is also an assistant professor in UNT's Department of Public Administration. "It provides even more opportunities for our students to get out in the world and apply what they're learning in the classroom."
The team's efforts led to the creation of Glory Park, a new park under development in a Lewisville neighborhood that previously had limited access to green space. The city received more than $2 million in grant funds to survey and develop the park land, which was originally an undeveloped lot. The funding came from the U.S. Department of Housing and Urban Development, Texas Parks and Wildlife Department and One Tree Planted, an environmental non-profit tree planting charity. AERI member Lu Liang assembled a team of faculty and students to conduct tree canopy surveys and monitor heat and air quality in the neighborhood.
"Air pollution is always a concern because of population and vehicle density," said Liang, an associate professor in the Department of Geography and the Environment. "Everything can be intensified in a compact urban setting without access to parks and green space."
After breaking ground on the new park, Lewisville city leaders invited AERI to collaborate on the creation of the Healthy Infrastructure Plan, an innovative master plan designed specifically for the suburban community. The plan offered UNT students from multiple departments the chance to get hands-on experience in community outreach, urban planning and environmental surveys.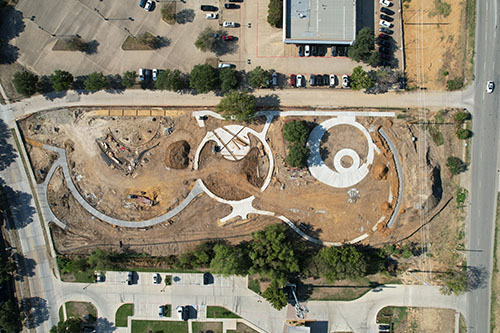 "Other organizations have reached out and said, 'Hey, we love what you did with Lewisville, we'd love to do that in our community, our neighborhood,'" Fischer said. "It's exciting because what we did in Lewisville can potentially change the city's future development."
Using the same environmental monitoring practices that were implemented for Glory Park, the plan includes an equity index to improve infrastructure in areas of the city that need it most. The index was developed by AERI with citizen-led committees to identify areas with a history of underinvestment that could be enhanced by planting trees, adding new sidewalks and more.
For Claire Powell, Lewisville's city manager, the Healthy Infrastructure Plan is a way to show all Lewisville residents that they matter.
"Neighborhoods that don't have healthy infrastructure can experience poor health outcomes and greater poverty levels," Powell said. "Adding green spaces like Glory Park, this jewel right in the middle of the community, can lift everyone up."
The Healthy Infrastructure Plan was officially adopted by the city of Lewisville earlier this year. The city chose to weave the initiative into its comprehensive city plan, allowing for the continued use of the equity index and environmental monitoring.
The project spearheaded by AERI won awards from the North Central Texas Council of Governments and the Texas chapter of the American Planning Association, and is now making waves at conferences across the state. Members of AERI and the city of Lewisville will present the Healthy Infrastructure Plan at the American Planning Association's Texas chapter conference and at the Texas Recreation and Park Society conference. The team, including Marines, recently presented the plan at the National Parks and Recreation Association's annual conference.
Marines now works for the city's Parks and Recreation department as an administrative analyst while he pursues a master's degree in public administration at UNT.
"Urban planners are problem solvers. We look at situations and see how we can do better," Marines said. "UNT gave me the tools to take on these problems."