Thursday, April 28, 2022 - 16:36
Category: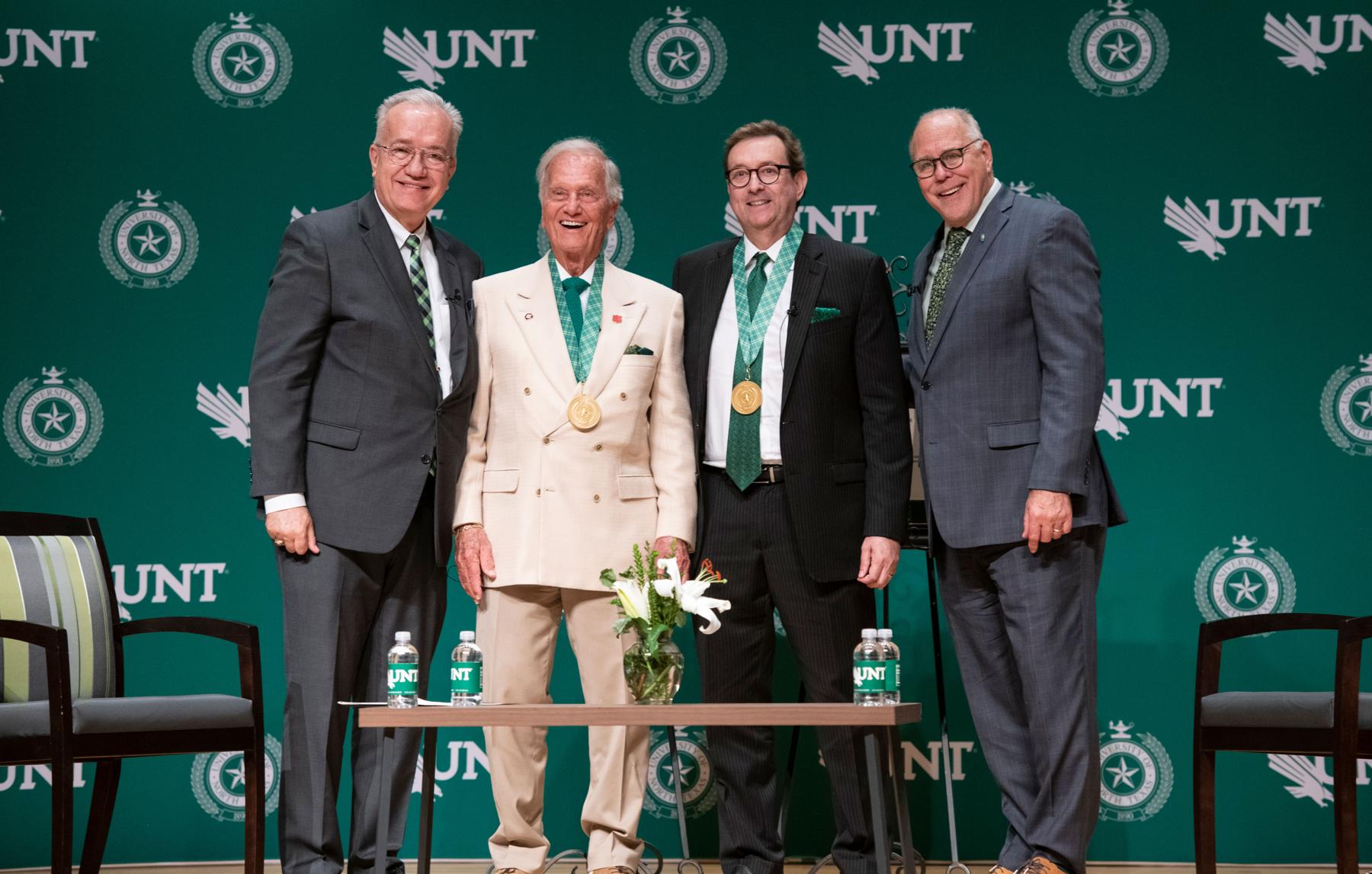 MEDIA: Download photos and video from event.
DENTON (UNT), Texas — University of North Texas alumni and musicians Pat Boone and David B. Hooten returned to the university Friday (April 29) to receive UNT Presidential Medals of Honor in celebration of their musical talents and undeniable impact on the entertainment industry.
Boone, a celebrated musician, actor and motivational speaker studied at UNT from 1954-55. He was a soloist for what is now UNT's One O'Clock Lab Band, and he went on to sell 45 million records with six No. 1 records, 38 "Top 40" hits and 13 Gold Records. He has appeared in more than 15 movies, is a member of the Gospel Music Hall of Fame and has three stars on the Hollywood Walk of Fame. Boone's family founded Mercy Corps, a Christian humanitarian and relief organization.
Hooten received a B.A. in music education from UNT in 1987. He is a multi-Grammy and Emmy nominated musician who has released more than 20 albums and produced or played on over 100 albums. He has performed at both the White House and the Vatican. Hooten established the Children's Music Education Foundation and chaired Red-Tie Night, Oklahoma's single-largest fundraising event benefitting the Oklahoma AIDS Care Fund.
"As musicians and entertainers, UNT alumni Pat Boone and David Hooten have both made us laugh, smile, and tap our feet to the beat. We are thrilled to celebrate their artistic contributions and accomplishments," UNT President Neal Smatresk said.
The UNT Presidential Medal of Honor is the highest presidential honor given at UNT, awarded to individuals who have made significant contributions to UNT and have elevated the university. It has been given out four times during President Smatresk's tenure — to George Dunham in 2015, Norah Jones in 2016, Abner Haynes in 2017 and Texas Senator Jane Nelson in 2021.
Boone and Hooten were awarded their medals during a private ceremony Friday. Their visit to campus also included a public event where Boone and Hooten spoke to UNT students and others about how they've prepared for success in their performing and entrepreneurial careers.
"It is such a privilege to celebrate Pat Boone and David Hooten, who both have made their alma mater proud with their tremendous impact on the music world," UNT College of Music Dean John W. Richmond said.
About the UNT College of Music
The College of Music is the largest public-university music program in the United States and one of the most globally respected. Faculty include internationally acclaimed artists and scholars in composition, conducting, ethnomusicology, music education, music history and performance. With more than 1,000 music events annually, you can experience world-class music anytime.