Monday, November 21, 2022 - 09:43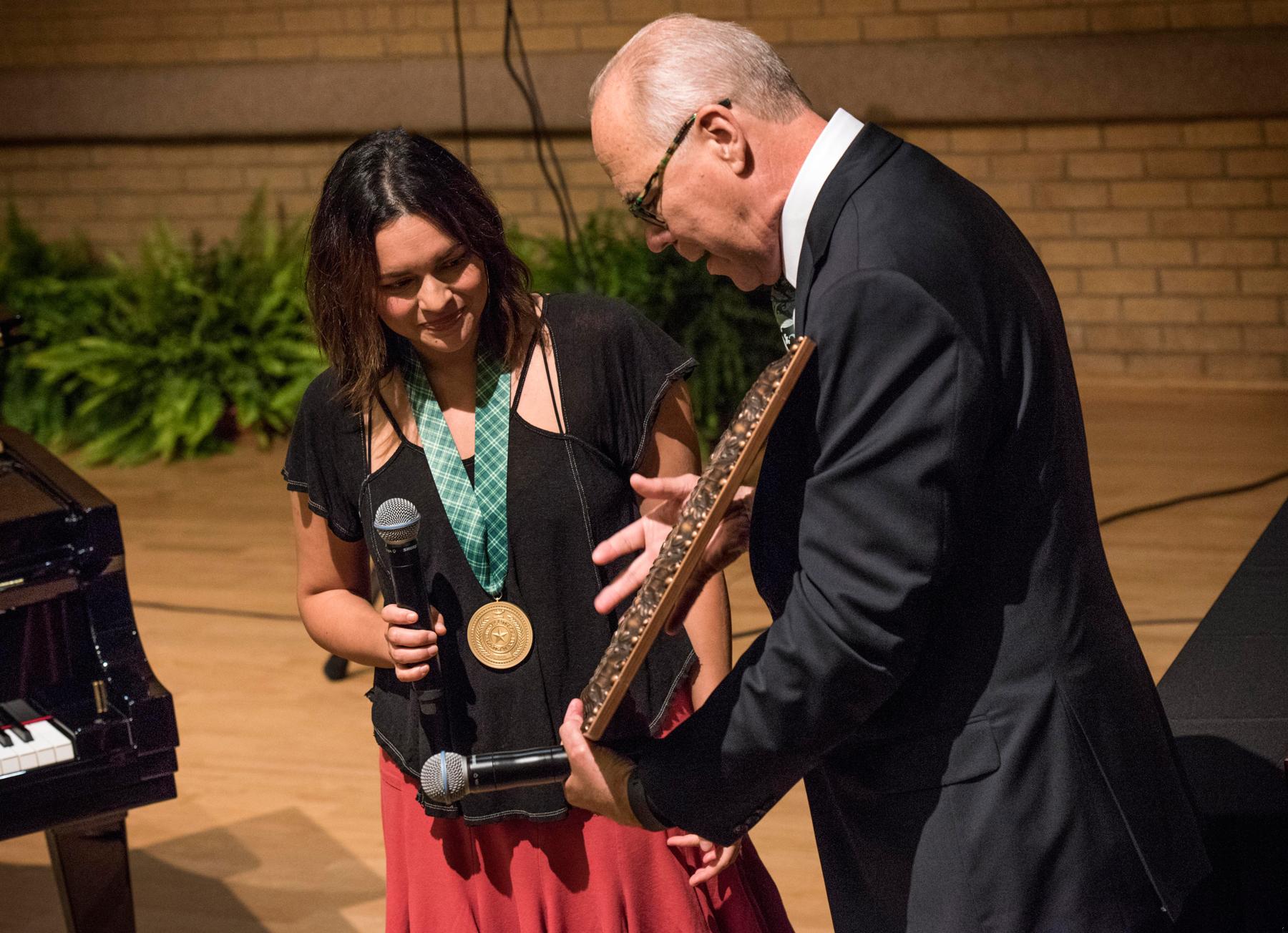 Alumna Norah Jones receives the Presidential Medal of Honor from UNT President Neal Smatresk in 2016.
DENTON (UNT), Texas — Thirteen faculty and alumni from the University of North Texas have earned nominations or collaborated on projects nominated in the 65th Annual GRAMMY Awards.
From Best New Artist to Best Contemporary Instrumental Album, UNT faculty and alumni were recognized across nine categories in the nominations announced Nov. 15. Three nominations alone went to projects from alumna Maren Morris, who released a new album in March 2022.
Over the years, alumni, faculty and staff from the internationally renowned College of Music have worked on numerous Grammy-nominated and Grammy-winning projects. Seven nominations have gone to students, composers and arrangers in UNT's premier jazz ensemble, the One O'Clock Lab Band, in previous years.
"Once again, we are excited to see our College of Music family nominated for Grammy Awards in 2023," College of Music Dean John W. Richmond said. "The Grammys are easily the best known, recognized, and coveted affirmations of achievement in the world of professional music recordings. We are delighted to see that our alumni and our faculty are under consideration once again, affirming our uncompromising commitment to excellence in the music profession."
Alumni and faculty from across UNT colleges and schools were nominated or part of projects nominated in the 2023 awards (people with UNT ties in bold):
BEST ARRANGEMENT (INSTRUMENTAL or A CAPELLA)
Kings Return — "How Deep is your Love"

College of Music faculty member Rosana Eckert (producer) and alumnus Vaughn Faison (Kings Return member)
BEST CONTEMPORARY INSTRUMENTAL ALBUM
Alumnus Jeff Coffin — "Between Dreaming and Joy"
Alumni Michael League, Shaun Martin, Justin Stanton, Chris Bullock and Mike Maher of Snarky Puppy — "Empire Central"
BEST COUNTRY ALBUM
Alumna Maren Morris — "Humble Quest"
BEST COUNTRY SOLO PERFORMANCE
Alumna Maren Morris — "Circles Around This Town"
BEST COUNTRY SONG
Alumna Maren Morris — "Circles Around This Town"
BEST LARGE JAZZ ENSEMBLE ALBUM
Remy Le Boeuf's Assembly of Shadows — "Architecture of Storms"

College of Music faculty member Philip Dizack (trumpet)
BEST NEW ARTIST
BEST OPERA RECORDING
Metropolitan Opera — "Fire Shut Up In My Bones"

Alumna Latonia Moore as Billie
BEST TRADITIONAL POP ALBUM
Alumna Norah Jones — "I Dream of Christmas (Extended)"
Winners will be named in the 65th GRAMMY Awards airing Feb. 5 on CBS and streaming live and on-demand on Paramount+.
ABOUT THE UNT COLLEGE OF MUSIC
The College of Music is the largest music program at a public-university in the United States and one of the most globally respected. Faculty include internationally acclaimed artists and scholars in composition, conducting, ethnomusicology, music education, music history and performance. With more than 1,000 music events annually, you can experience world-class music anytime in person or via live-stream on the college of Music Youtube channel.