Friday, April 28, 2023 - 15:19
Category: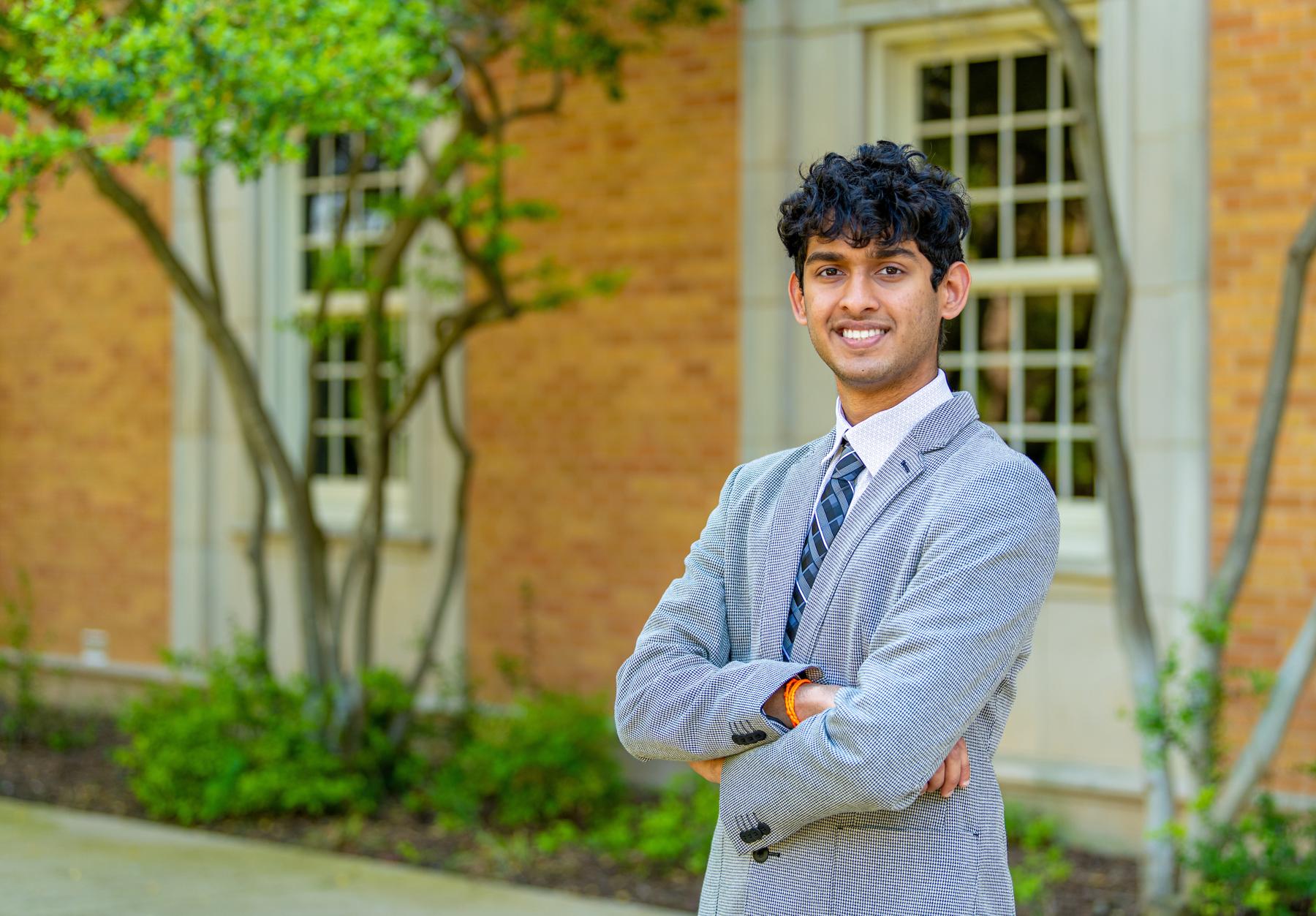 DENTON (UNT), Texas – Jathin Pranav Singaraju, a student from the Texas Academy of Mathematics and Science at the University of North Texas, has been named a 2023 Goldwater Scholar in recognition of his work in the biomedical engineering lab of assistant professor Huaxiao "Adam" Yang.
The Goldwater Scholarship is one of the most competitive awards in the country for students pursuing careers in math, science and engineering. Jathin's award brings UNT's lifetime number of Goldwater Scholars to 71.
"This award recognizes the most accomplished and contributive undergraduate researchers nationwide, and is a testament to their limitless potential to make significant contributions in the near and distant future," said James Duban, associate dean for research and national scholarships in TAMS and the Honors College. "Jathin has brought added distinction to himself, to UNT and to his faculty mentors by being named a Barry M. Goldwater Scholar."
Under Yang's supervision, Jathin pioneered a groundbreaking method that efficiently enhances cardiac organoid characteristics and scrutinizes cellular structures, paving the way for novel diagnostic and therapeutic avenues in the realm of cardiovascular disease. His research is dedicated to enhancing next-generation technology for autonomous-based image processing to support the study of heart development and regenerative medical treatments.
His research also stands to advance the employment of deep-learning-based software to have machines replicate human cognition. Jathin is currently co-authoring a patent application with Yang for a novel computer-vision software that preprocesses and analyzes cardiac organoid data.
Before joining Yang's lab, Jathin conducted research under the direction of former UNT computer science professor Eduardo Blanco, work that culminated in a paper by Jathin that was published in the Proceedings of the North American Chapter of the Association for Computational Linguistics.
"We are very proud of our 71st Goldwater Award recipient," said Glenisson de Oliveira, dean of TAMS. "Jathin is an outstanding young researcher whose work is focused on improving AI and utilizing it as a tool in data analysis for the advancement of science."
Jathin has always been fascinated with science fiction, particularly robots. In middle school, he started a competitive robotics team, where he discovered his true passion.
"Although I helped build the robots, I especially enjoyed programming algorithms that enabled the robots to maneuver independently," he said. "I marveled at the potential of computer science and imagined a future of optimized, efficient robots."
Equipped with the discoveries he made under the mentorship of Yang and Blanco — and with a Goldwater Award to recognize his remarkable accomplishments — Jathin is one step closer to making his vision a reality.
"The Barry M. Goldwater Scholarship has catapulted my research dreams," he said. "Having won this award early on, I have more confidence to tackle prestigious postgraduate fellowships."
At UNT, Goldwater nominees emerge from a competitive process overseen by Duban and a multidisciplinary committee of faculty members, including Sushama Dandekar, principal lecturer of chemistry; Jannon Fuchs, professor of biology; Chris Littler, professor of physics; Thomas Scharf, professor of materials science and engineering.