Friday, August 18, 2023 - 08:07
Category: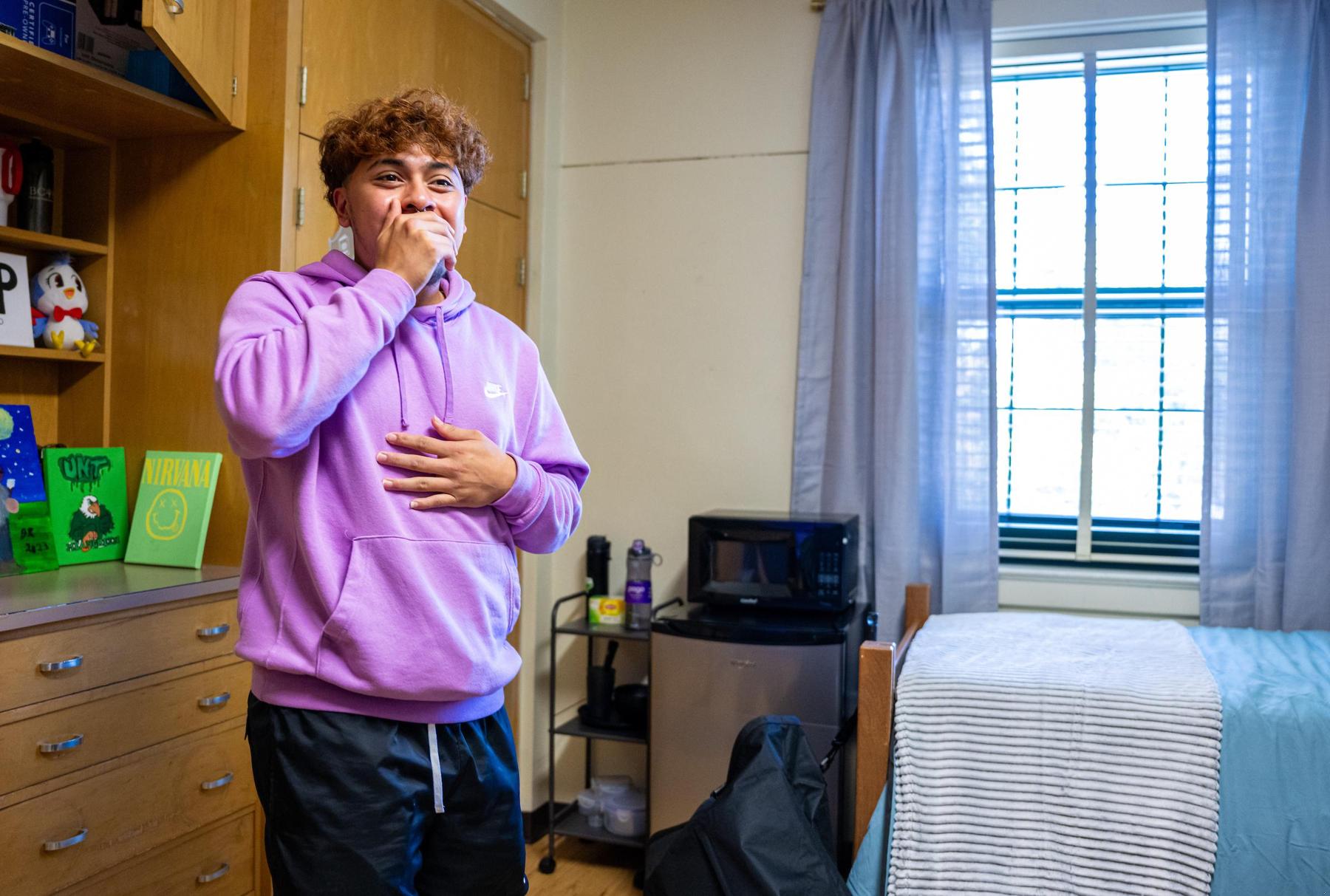 Bryan Roberts in his dorm room
DENTON (UNT), Texas — A group of students at the University of North Texas received fresh looks and dorm room makeovers thanks to a new partnership supporting foster care alumni as they start college.
UNT's Persevere Until Success Happens (PUSH) program and the nonprofit Greater Than Expectations Inc. came together to provide seven freshmen a day of pampering and transformation. The students were treated to massages, manicures and haircuts while volunteers updated their dorm rooms with new furnishings and everyday appliances, including bed sets, art, irons, microwaves, mini fridges and more.
"My room is perfect," said Bryan Roberts, an incoming freshman who enjoyed the memorable day. "There was a color scheme I asked for and they did an amazing job following it. The spa day was something we all needed before school started too."
The PUSH program provides UNT students who have experienced foster care or homelessness with a campus-wide network of support in areas including academics, financial literacy, career readiness and social wellbeing. PUSH also hosts events like potlucks and art nights to allow students to network and connect with others who have had similar life experiences. The services and resources are funded through grants and donations.
The special day was sponsored by Greater Than Expectations as part of their newest program called Freshman Fresh. The nonprofit organization will continue to provide resources, mentors and therapy to these UNT students throughout their college careers.
"We want to make sure they really thrive their first year of college so they want to continue in school," Greater Than Expectations founder Crystal Ward said. "Only three to four percent of foster youth make it to completing their college degree. We want them to rise above those odds."
The UNT students began their transition to campus life with the PUSH Summer Bridge program. The Summer Bridge program provided the incoming freshmen with fun activities like game nights along with workshops to build practical skills such as strong study habits. Brenda Sweeten, PUSH program advisor and UNT foster care liaison officer, estimates that PUSH serves about 300 students each year.
"It's about breaking the cycle. We do we everything we can to make sure they graduate," said Sweeten, who also is a clinical professor in the Department of Social Work. "The first time they met this summer, they were all a little nervous. By the end of it, they all were really starting to bond. Now they're a solid friend group who rely on each other."
Both PUSH and Greater Than Expectations plan activities and programming designed to help scholars transition into life after high school. Some participants are already inspired to pay it forward — including Roberts, who said he wants to become a peer mentor for other foster care alumni coming to UNT.
"PUSH really opened my eyes," Roberts said. "They guided me through the college application process and helped me get a job. I want to major in social work and hope I can give back soon to be able to help those who were in my shoes."