Wednesday, July 12, 2023 - 10:03
Category: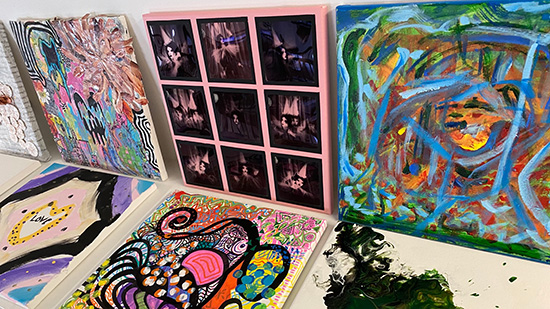 DENTON (UNT), Texas — A new art exhibition featuring artists from the University of North Texas and Denton community is giving back to the UNT Food Pantry presented by Kroger.
UNT CoLab's square-d art exhibition features work from UNT students, faculty, staff, alumni and members of the Denton community. Each artist received a 12" x 12" canvas and, according to UNT CoLab director Kristen Kendrick Bigley, were allowed to do whatever they wanted.
"They're not all paintings," Kendrick Bigley said. "Some incorporate fiber, embroidery or resin. In one case, we've got a pair of earrings mounted to a blank canvas because that artist is a metalsmith. I'm glad to see so many people help lessen the stigma against food pantries by turning out and supporting the exhibition."
The UNT CoLab serves as a learning lab for students in the College of Merchandising, Hospitality and Tourism. With its prime location on the Denton Square, it also functions as a UNT and Denton centered boutique, event venue and art gallery. The term "CoLab" refers to the collaboration between the campus and community. More than 80 artists stepped up to share their creativity with all the proceeds going directly back to UNT's food pantry.
"The UNT Food Pantry thrives off of individual contributions and community partnerships," said Tristen Wheeler, interim Director of the Diamond Eagles Student Resource Center. "Campus partners, such as the UNT CoLab, assist us in achieving our mission of reducing food insecurity on campus. We sincerely appreciate the CoLab for this exhibition through the monetary donations it will contribute, but also the community partnerships it helps us continue to build."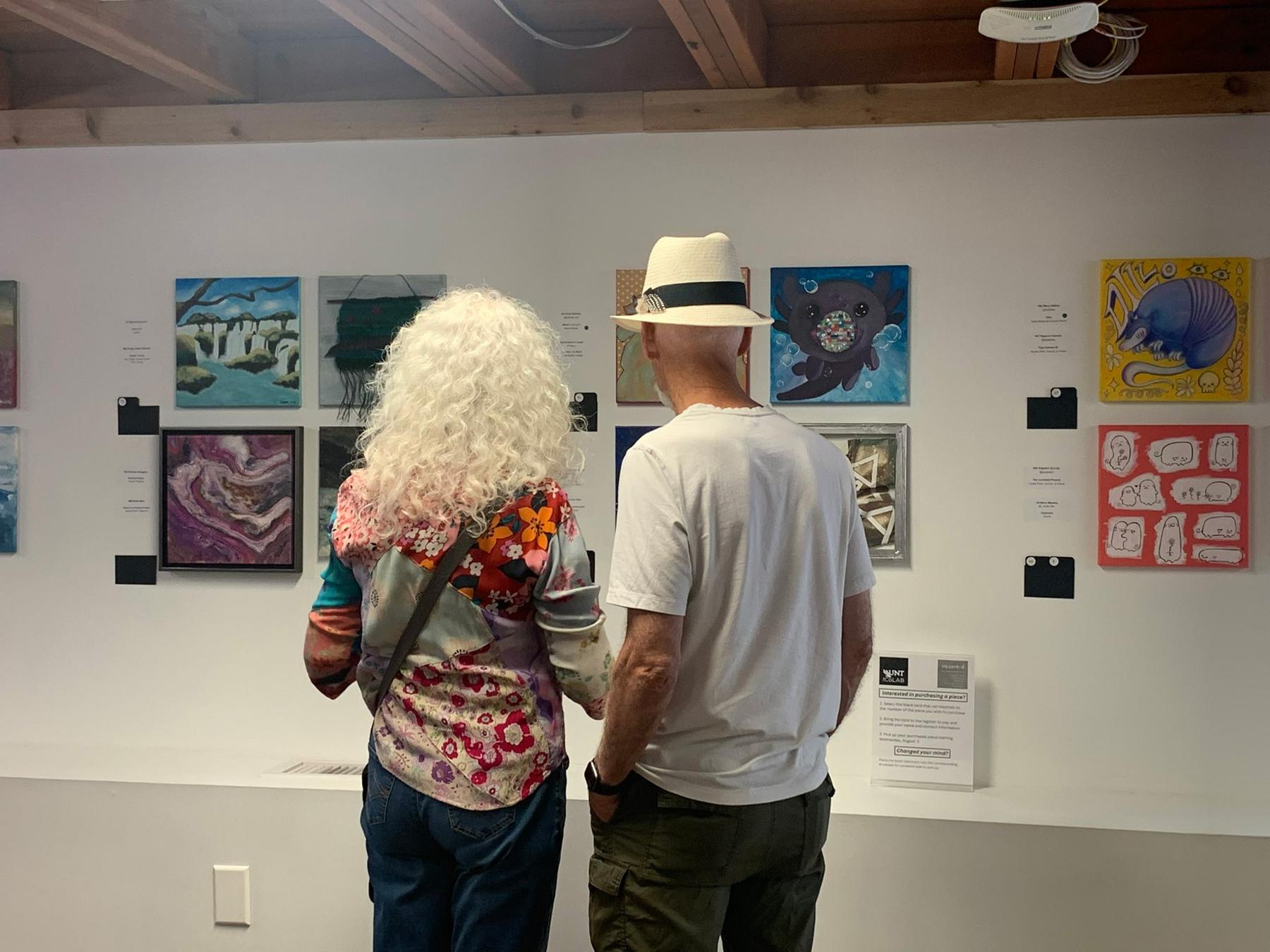 The UNT Food Pantry first opened its doors in 2015 and provides students with food, plasticware, laundry detergent, personal hygiene products and more.
"As a counselor and art therapist at UNT, I refer students that I work with to the food bank all the time," contributing artist Myriam Reynolds, a counselor in the Division of Student Affairs, said. "I felt compelled to give back."
Four pieces created by local professional artists were set aside for silent auction during the exhibition's opening reception July 7. Those pieces — along with more than 70% of the artworks — sold on opening night. Between the sold works and silent auction, the UNT CoLab raised nearly $2,000 on the first night of the exhibition.
"I want to support our hard-working students as they strive to achieve their goals," Ana Lopez, associate professor in the College of Visual Arts and Design, said. "I am happy to utilize my creative abilities to contribute to this worthwhile endeavor."
The exhibition also serves as a celebration for community members making their first foray into the art world.
"It's an excellent opportunity for anyone in Denton to participate," UNT studio art senior April Enelly Galvan said. "I really like this idea of art by the community. It's great for those who have never been in an art exhibition before."