Thursday, September 14, 2023 - 10:02
Category: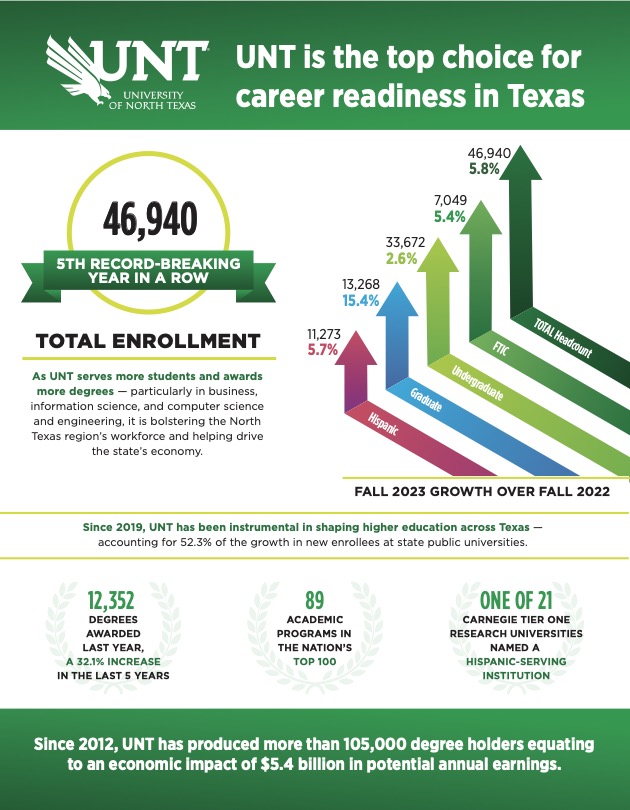 Enrollment climbs for five years running, as work-ready Mean Green grads drive the North Texas economy
DENTON (UNT), Texas — The largest-ever student body — numbering 46,940 — enrolled for the Fall 2023 semester at the University of North Texas. The more than 5% growth in enrollment comes from first-time-in-college freshmen, graduate students and those studying at UNT at Frisco, the university's campus serving Collin County.
"This is a clear demonstration that students and their families see UNT as an exceptional educational value," UNT President Neal Smatresk said. "Our commitment to a real-world, affordable education along with nationally ranked programs are bringing record numbers to UNT. We are providing more and more students the opportunity to attend college and earn a degree that prepares them for a successful career with top employers."
Since 2019, UNT has been instrumental in shaping higher education across Texas — accounting for 52.3% of the growth in new enrollees at state public universities. Notably, UNT's record-breaking enrollment numbers for the past five consecutive years are coupled with a rising number of degrees conferred. In the past two years alone, UNT has awarded nearly 24,000 new degrees.
As the university serves more students and awards more degrees than ever —particularly in business, information science, and computer science and engineering, it is bolstering the North Texas region's workforce and helping drive the state's economy. Since 2012, UNT has produced more than 105,000 degree holders equating to an economic impact of $5.4 billion in potential annual earnings.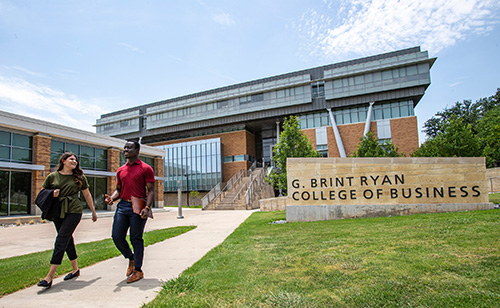 "Education is a key that unlocks opportunity and economic mobility," said Kirsten Kuykendoll, Head of Talent Acquisition at Fidelity Investments. "We're proud to have many University of North Texas alums and recent graduates working on behalf of our customers, clients and community organizations. Fidelity is committed to providing opportunities to the next generation and investing in our community here in North Texas."
This fall, the Mean Green Family welcomed 7,049 first-time college students and saw an increase in the graduate student population of more than 15% from 2022. The university's focus on career readiness leverages innovative curriculum that allows students to design their own degrees and prepare for future careers through the UNT Career Center with the help of embedded career coaches in every college.
"We are being proactive with our services, providing required courses in the first two years for students — that's the cutting-edge piece," said Eileen Buecher, assistant vice president of the UNT Career Center. "Other universities are headed in this direction, but UNT is getting there first, and we're doing it on a large scale."
At the UNT Career Center, dedicated career coaches specialize in career development and employer relations as they work with industry partners in North Texas and around the globe.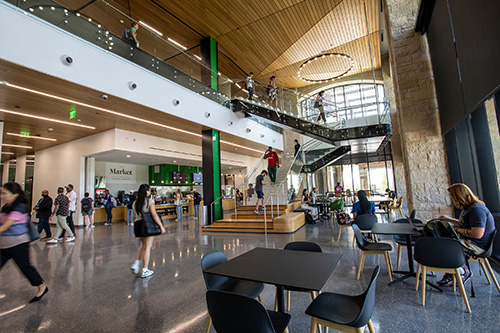 UNT's commitment to prepare students to make a difference in the workforce recently expanded with a $3 million gift from Satish and Yasmin Gupta to establish a new career center at UNT at Frisco. And later this month, UNT will officially dedicate The Wilson Jones Career Center in the G. Brint Ryan College of Business, which was established with a $5 million gift from the alumnus and his wife, Jane.
Enrollment at UNT at Frisco continues to grow with more than 3,140 students at Frisco Landing, the first permanent building that opened earlier this year at the branch campus in Collin County.
"UNT at Frisco is a dream fulfilled for the city and our employers, offering the majors and curriculum needed to educate a future-ready workforce," City of Frisco Mayor Jeff Cheney said. "The learning environment at Frisco Landing is key to preparing a pipeline of talent for tomorrow's jobs. Frisco companies are looking to hire those who are ready to innovate and work collaboratively."
***
About UNT
Ranked a Tier One research institution by the Carnegie Classification, UNT is one of the nation's largest public research universities with nearly 47,000 students pursuing their passions so they can become tomorrow's leaders. We are recognized as a Minority-Serving and Hispanic-Serving Institution dedicated to inclusion and reflecting the population of Texas. UNT students earned more than 12,000 degrees last year in 244 degree programs, many nationally and internationally recognized. With a focus on graduating career-ready students at an affordable cost, UNT has served as a catalyst for creativity since its founding in 1890, continually fueling progress, entrepreneurship and innovation for the North Texas region, the state – and beyond.
The UNT community is guided by five shared values – Courageous Integrity, Be Curious, We Care, Better Together and Show Your Fire.