Monday, September 18, 2023 - 09:32
Category: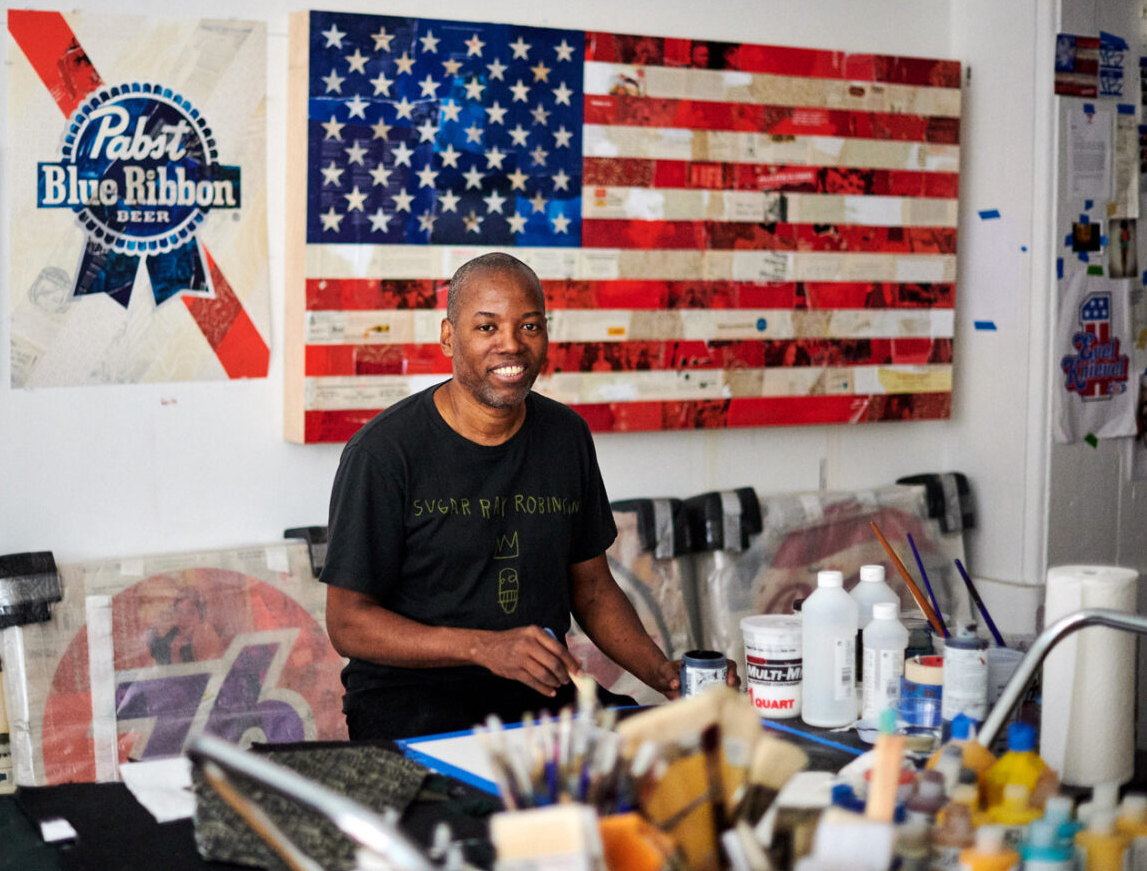 DENTON (UNT), Texas — "CEY ADAMS, DEPARTURE: 40 Years of Art and Design" is on exhibit at the CVAD Gallery through Dec. 15 to offer students from across campus the opportunity to experience and learn from the artwork. Organized by the Boston University Art Galleries, it features dozens of works by American visual artist, graphic designer and author Cey Adams.
After emerging from New York City's "downtown graffiti art" movement of the 1970s and '80s, Adams became creative director for Hip Hop music label Def Jam Recordings. He is credited with having created the "visual identities" — logos, album covers and advertising campaigns — for many of the genre's best-known acts, including Beastie Boys, Run-D.M.C., LL Cool J and Jay-Z, among others. He's also collaborated with numerous global brands to put his pop-art spin on some of the world's most iconic product logos, including Kool-Aid, Texaco, Coca-Cola and Kentucky Fried Chicken.
UNT students and the public are invited to attend a lecture by Adams about his work at 7 p.m. Sept. 21 at the CVAD Gallery as part of a two-day event called "Inspire, Incite, Ignite". Admission to the lecture and a reception that will follow are free. A conference day starting at 9:30 a.m. Sept. 22 will feature workshops and presentations from various artists. For more information on "Planning and Sustaining an Empowered Design Career", click here.
The wide-ranging variety of artistic mediums that comprise the retrospective exhibition, coupled with the inherent familiarity of its subject matter, are among the reasons why Stefanie Dlugosz-Acton, director of CVAD Galleries, is confident that it will resonate with UNT students and others.
"The show is really an encapsulation of all things art and design," she says. "I think it's really great for the students to see that someone can do this this type of art, and also this type and that type, and that those things aren't dichotomies, that they aren't different ends of the spectrum."
Among the noteworthy works on display is a massive collage-style portrait of Run-DMC's members, a sculpture inspired by the famous Hot Wheels toys logo and a pair of jackets emblazoned with Adam's signature retro-styled "Love" paintings and murals. 
A wall at the gallery is adorned with a sampling of the numerous Hip Hop album covers that Adams has designed, including a pair — "Ready to Die" by The Notorious B.I.G. and "Fear of a Black Planet" by Public Enemy — that recently landed in the No. 4 and 8 spots, respectively, on Billboard magazine's list of the 100 Best Album Covers of All Time.
"Those albums left an impact on culture, and that impact continues," Dlugosz-Acton says. "Without this, we wouldn't have a lot of the Hip Hop influence in our culture that we have today."
Besides its obvious educational value for College of Visual Arts and Design students, Dlugosz-Acton says the exhibition may also be an academic resource for those studying music, fashion design, communication studies, marketing and history, among other subjects. 
"Cey just has such a depth and breadth of knowledge," she says. "I knew that his art would be something that our faculty would be interested in and that our students could really glean something from because he has a very distinctly different voice."
***
About the CVAD Galleries at UNT
The CVAD Art Galleries at UNT support the university's educational mission, enrich the aesthetic environment and serve as a cultural resource for the public. They comprise three gallery spaces; the CVAD Gallery, Cora Stafford Gallery, and the Paul Voertman Gallery. Each gallery inspires and empowers student and community audiences through the viewing experience, fosters students' confidence in the public display of their artworks and designs, and presents and promotes the artist's and designer's voices.
About the College of Visual Arts and Design
The College of Visual Arts and Design will celebrate 130 years of teaching art and 30 years as a separate art school on Oct. 28, 2023. UNT's College of Visual Arts and Design is one of the nation's most comprehensive visual arts schools at a public university, offering 29 undergraduate and graduate degree programs and concentrations in areas ranging from art history to communication design to new media art. The college includes several institutes and centers, including the renowned Texas Fashion Collection, and three art galleries to showcase student and professional work. Considered one of the best art schools in the South and Southwest, the College of Visual Arts and Design offers the first and only Ph.D. program in art education in Texas and the top-ranked program in Communication Design for Graphic Design. Learn more at cvad.unt.edu. Follow our CVAD News and Views site at news.cvad.unt.edu.