Friday, November 10, 2023 - 14:21
Category: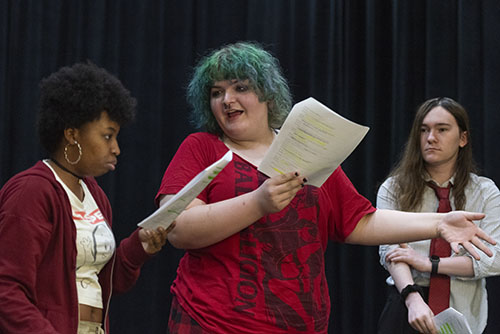 Students rehearse lines for a play
DENTON (UNT), Texas — Between going to classes and studying for midterms, University of North Texas theatre senior Sam Jack braced for a unique event — a competitive festival that challenges students to create an original work in just 24 hours.
The UNT Department of Dance and Theatre hosted its second-ever 24-hour play festival. Participating teams had only 24 hours to write, memorize and rehearse an original play inspired by a prompt. Performances began immediately at the end of the tight deadline.
"The only purpose is just to create," Jack said. "The stigma of needing to create something perfect goes out the window and you just create something honest."
The event takes its inspiration from The 24 Hour Plays, an annual tradition established in 1995 by New York-based theater director Mark Armstrong. Writers, actors and directors from Broadway to universities participate each year. The project's popularity has spread to theater companies as far as Mexico, Ireland and Finland.
UNT's festival puts a creative spin on the tradition. Instead of providing a simple, straightforward prompt, an informal student committee agrees on a theme for a large "prompt box." The 8-foot-tall black case housed in the lobby of the Radio, TV, Film and Performing Arts Building contained a tableau created by Jack and his fellow students.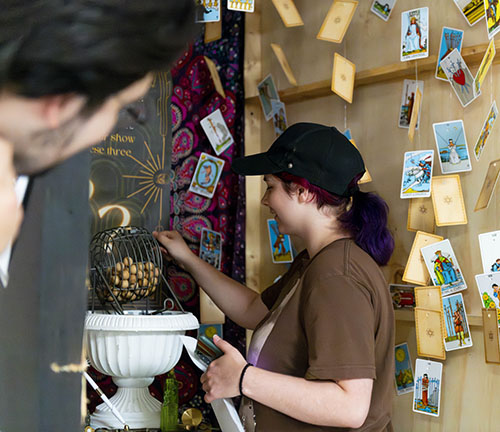 "We tell participants, 'Whatever is in this box is what you've got to work with,'" Jack said. "Then they can take anything from the box that incites or inspires them."
Each team included a writer, director and actors. After the prompt was unveiled, the writers spent the first 12 hours crafting an original script. The director and actors had the remaining 12 hours to memorize lines, assemble a set and rehearse.
Despite the time constraints, students said the festival was a chance to step outside their comfort zones and flex their creative muscles apart from larger productions. Actors were able to try new types of roles, while writers saw their first scripts performed and directors led their very first show.
Donna Marquet, principal lecturer and faculty advisor in the dance and theatre department, believes the festival is proof that creatives can make great art on a deadline.
"It's amazing to see what they do with the prompts and how different the performances are from each other," Marquet said. "They come up with incredible ideas. Even the prompt box and the anticipation surrounding the performances lends an air of mystery and fun."
Performances ranged from eight to 15 minutes. Once the plays began, it was up to the audience to select the best one by show of applause. The winning team took home a coveted Golden Skull Award, a plastic skull covered in gold paint.
For Jack, the best part of the event was seeing students overcome their anxieties to make something uniquely great.
"As much as you try to prepare yourself, the point of the event is to take it as it comes," Jack said. "Every year, people don't think they can do it. But the second the clock turns on, something happens in your head. You just want to create."